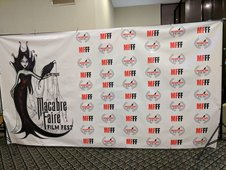 In the summer of 2012, a buddy asked me to help him work his table, selling DVDs, at a film festival out on Long Island. That festival was called the Macabre Faire Film Festival. I had nothing to do that weekend, so I figured I would give him a hand. Little did I know the impact that this decision would have on me....

The festival was in a Best Western hotel, and was relatively small. There were a handful of vendors, and a few celebrity guests, but what really struck me was the intimacy and closeness of the event. It was NOTHING like the large celebrity autograph conventions I had been to, and that was SO refreshing. It was all about the films and the film makers, and that's what stuck me. I saw so many great films that weekend and met so many great people, and I was hooked. One person stood out above all, and that person was Elsie Ginsberg, who, at the time, was introduced to me as LC Macabre. She was friendly and genuine and I immediately got a good vibe from her. We hit it off immediately, and I knew that I had found something special in this event. I met several of the staff members, along with many filmmakers, actors and actresses who are still friends to this day.

As the years went by, I attended every Macabre Faire Film Festival, and it just kept getting better and better. Every year there were more films, more filmmakers, and more opportunities to make new friends and new connections. Every time, I looked forward to seeing the Macabre Faire staff, all of whom I were getting to know. They are an amazing, diverse collection of dedicated people who really know how to run an event. No matter what happens, someone is there to deal with it. I found myself wanting to get more involved with this very strange, but very awesome film family.
---
Macabre Faire - January 2013
---
Macabre Faire - June 2013
By the summer of 2013, my feeling about this event had already been solidified, and I found myself looking forward to the event more and more. The June 2013 event was special because I really began to cement friendships that had begun at the previous events. The festival itself was really growing in terms of the films that were shown and the entertainment that was provided. It was about this time that I began referring to Macabre Faire as "a convention unlike any other". It was also a fun weekend because it turned into a road trip adventure with some very special people. Wait....change that....it was a crazy weekend because of some very special people!

Not only that, but I was touched that LC and the rest of the Macabre Faire staff marked my birthday, along with another member of the Macabre Family, with a cake presented by Eileen Dietz!

In January of 2014, Elsie and Adam Ginsberg, and the rest of the Macabre Faire Staff really took it to another level entirely with their first Red Carpet gala. Never before had I been to a film festival where indie filmmakers were treated like royalty, as if we were all in Hollywood during the Oscars. There were red carpet photos and interviews, and a tremendous dinner with great entertainment and a lot of fellowship, camaraderie and fun into the wee hours of the morning. I had never attended an event like this. I was just a patron, and yet I was still made to feel special. I think about this time my reputation for taking photos with lovely ladies was pretty much etched in stone by hey, there are worse things to be known for!

I had an amazing time at that first Macabre Faire Red Carpet gala, but little did I know that my experience with Macabre Faire was going to get even better.

For the 2015 Macabre Faire Film Festival, Elise Ginsberg honored me by asking me to be one of the judges on the judges panel. I was humbled and honored that she asked me, and I took the job very seriously. For that first time as a judge, I think I watched about 130 films. It was a lot of work, but it was a joy to do it. One of the great things about being a judge is that I actually get to watch all of the films. One of the very few downsides of attending an event like Macabre Faire is that there are so many films screening all weekend that you really have to try and juggle your time and pick and choose which ones you are going to see. Fortunately, I do not have that problem. I have seen so many amazing films as a judge, and the quality of the work just goes up every year.

One of the other joys of being more involved with the festival is really getting to meet so many of the filmmakers, actors and actresses. I've met so many creative people over the years, and I am proud to call many of them friends.

An important note about 2015 is that for the first time, the Macabre Faire Film Festival partnered with another promotion, the NY Horror Show, which added a new element to the event. There were a few more celebrity guests than usual, a bigger vendor room and yet another AMAZING red carpet gala. Macabre Faire was now THE premiere film festival in the NY area.

Oh, and we also roasted the SHIT out of our buddy Paul Gmitter.

The 2016 Macabre Faire Film Festival was as epic as ever. Once again, I had the honor of being a judge, and the Red Carpet Gala was more spectacular than the last time. By now, the event had really hit it's stride, and so many of my friends started talking about it in the summer of 2015! It really is an event where you can get to know people. There are a ton of events out there where you wait on line for a long time to spend a few seconds with a celebrity, and these kinds of events can be a lot of fun, and I go to a lot of them. But I go to Macabre Faire BECAUSE it's different, and because I can spend an entire weekend talking to filmmakers, actors, performers and fellow film fans. Not to mention the ridiculous lobby and room parties!
---
Macabre Faire 2017
Here we are in 2017. As I write this, Macabre Faire was two weeks ago, and I already miss it terribly and I wish it was next weekend. Once again, I spent a weekend with people I have come to regard as family. I was honored to be a judge once more, and again, I have the privilege of watching almost 100 amazing films. Even better, I got to meet many of the filmmakers and performers who brought the films to live. It was truly an amazing experience, and it's hard to believe it's been five years since the first one I attended. The event has grown in amazing ways and, through it all, Elsie Ginsberg has been the steady, guiding force. I run a very small event, and I know the challenges that I face. I can't imagine putting on a event of the scale of Macabre Faire Film Festival, and yet she does. I also give full credit to Adam Ginsberg and the AMAZING Macabre Faire team. They work tirelessly and do a fantastic job, and I am very proud to work with each and every one of them.
This time around I also had the honor of working with the lovely and talented
Danielle Najarian
on the red carpet, conducting interviews and meeting more of the filmmakers and actors. I introduced her to my strange and wonderful Macabre Family, and she didn't run away screaming!
I also had a blast spending time with the great friends that I have made over the years, mostly because of this very event. On Friday night, we spend two hours roasting my good friend Tom Ryan, and I must say, we did a hell of a job of it.
The Red Carpet Gala was fantastic yet again. It's great to see everyone dressed up and having a great time, and I enjoyed seeing all the winners accept their awards
I could ramble on all night.......There's just so much to say about this event, and I could never possibly put all of my feelings into words. I stand by my statement that the Macabre Faire Film Festival is an event unlike any other. Nowhere else will you really get the sense that it is ALL about the films and the filmmakers, and the friendships and collaborations simply flow from that. I get to a point where words fail, so I will just stop there.
I am honored and proud to have been with the Macabre Faire Film Festival since the beginning, and I look forward to many years to come.
​-The Horror Nerd
---
---
---
---