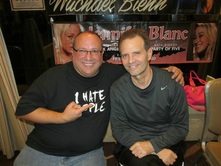 The weekend of October 24th-26th, I attended another Chiller Theatre convention in Parsippany, NJ. As always, I had a great time at the event. I met many great celebrity guests, and spent a lot of time with my "convention family".

As always, both during the convention and afterwards, the topic of autograph/photo op prices came up. This is a common topic these days amongst convention attendees, mainly because the prices seem to be following their upward trend, for the most part. Some of the guests were charging what I felt to be outrageous prices. Some of the
guests were charging $50 or $60 just for an autograph, and then charging extra for a photo op with your camera at their table. Other guests were not even allowing photo ops at their table, instead opting for the "professional photo op" option that seems to be taking over, as I predicted it would last year.

When I first started going to Chiller about 12 years ago, I would go for one day, with about $200, and I would go home with at least 10 autographed items, and free photo ops with every guest. Those days are loooooong gone.
The most egregious, shocking example of this, in my mind, was the two guests from "Sons of Anarchy". Between Friday and Saturday they increased their autograph prices, and started charging an extra $5 for the physical 8x10 photos that they had at their tables. My speculation is that they felt that since the crowds would be bigger
on Saturday, they could get away with charging more. Well, those of us who were there all weekend definitely noticed it and as far as The Horror Nerd is concerned, this is a slap in the face to the fans. Anyone who waited until Saturday instead of buying on Friday, for whatever reason, found that they now had to pay a higher price. I am calling bullshit on this. I have no way to prove if it was the actors themselves or the managers that did this, but I don't care. In the end, there's no way the actors didn't know what was going on, and they should be ashamed of themselves.

Having said that, the lines for these two clowns was long and steady all weekend, which is part of the problem. The fans, myself included, continue to pay the even climbing prices that these celebrities are charging. When are we going to wise up? I myself get far fewer autographs than I used to years ago, because I simply cannot
afford it. I also have no problem telling a guest or manager directly, to their face, that I feel that they are charging too much. I am never nasty about it, but I as the consumer, have a right to make my feelings known. Maybe if more people did that, things would change. I completely understand that some fans do not go to nearly as many conventions as I do, and they might not want to pass up their only chance to meet this person but still, at some point, we fans need to understand that we are at least part of the problem.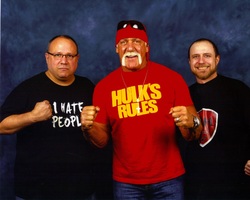 Another aspect that might be contributing to the rising prices are the convention newcomers. Yes, there are many like me who go to a lot of conventions or, at the very least, go to one or two of the same coventions year after year. But, there are many people who hear that a particular guests is going to be in their area, and
they show up just for that person. I good example of this is Hulk Hogan. Many people showed up at Chiller just to meet him, and they think that paying $100 for an autograph is the norm, so he can get away with it. A million girls show up to meet Norman Reedus, so he can charge $60 for his signature, and get away with it. Someone like me, who met Norman before "The Walking Dead" made women drop their panties, never paid more than $20 for an autograph from him and took a million free pictures with him. The people waiting in line for 6 hours to meet him think nothing of paying $60 for an autograph.

On the flip side of the coin, we, the fans, are the consumers, and it's up to us to decide where to spend our money, and if spending a certain amount of money for a few moments with your favorite celebrities is worth it to you, then so be it. I paid $100 for an autograph and photo of with Priscilla Presley earlier this year and,
for me, it was worth every penny, but it's PRISCILLA FREAKIN' PRESLEY!, not some 'B' movie actor who hasn't done anything in 20 years.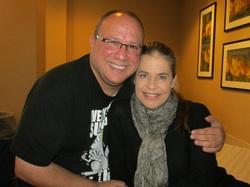 Lastly, there are many, many guests who charge reasonable prices for their autographed 8x10 and will take a bunch
of pictures with you for free, and will spend a few minutes chatting with you because they genuinely enjoy interacting with their fans. I don't want to put anyone off the convention experience, as I for one still enjoy every minute of it. Rising prices exist in all facets of life. I just wish that some of these celebrity guests would be a little less greedy, and make us feel that it's more about spending time meeting the fans.

Until next time, stay horrible!

The Horror Nerd