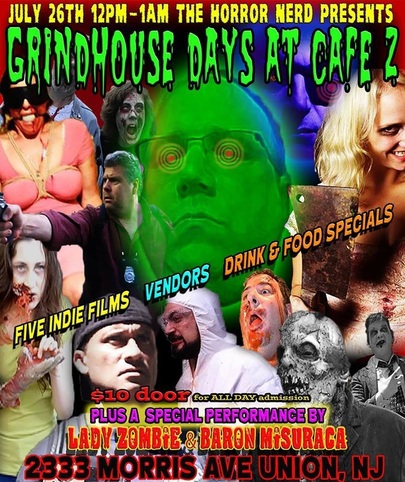 Do you like your indie horror served bloody? Do you like spending the day with filmmakers, actors, and fellow horror fans? Do you like watching amazing indie horror films with people who love them as much as you do? OF COURSE YOU DO!!

Join me, The Horror Nerd, along with my cast of ghoulish characters for a full day of indie horror mayhem! We will be screening 5 tremendous indie films, we will have awesome vendors on hand with tons of great merchandise, and there will be food, drinks, fun and entertainment! Costumed characters, cast and crew members will be around to take phots and sign autographs, and we will have a VERY special performance by Lady Zombie!

Our screening room is a lounge/bat environment with SEVEN flat screen TVs and an excellent sound system, so no seat is a bad seat.

$10 at the door or on-line gets you unlimited access to the vendor room and screening room all day, and you can come and go as you please.

For advance tickets, and a chance to win a special UK Blu-Ray edition of "Universal Monsters: The Essential collection, click on the link at the bottom of this page!

Our events are always a lot of fun, so come on our for a great day. Admission is only $10 at the door with entitles you to come and go as you please all day. Some of our special guests may charge for autographs but that is at their discretion.

Cafe Z in Union, NJ is a full service Italian restaurant with two bars. There will be food and drink specials, as well as the full restaurant menu available for you to enjoy.

---
Special Guests


It gives me, The Horror Nerd, great pleasure to announce that we will be featuring a special late-night performance by the one and only, lovely and talented, LADY ZOMBIE!



Lady Zombie is a multi-talented singer, actress, and dominatrix who is extremely active in the NY fetish scene. What does she have planned for us? Even I don't know, but whatever it is, it is sure to captivate and tantalize.

This is something you do NOT want to miss, so be sure to stick around until the end of the night!

Click on the image to check out Lady Zombie's Facebook page. You can also find her at www.ladyzombie.com.

---
---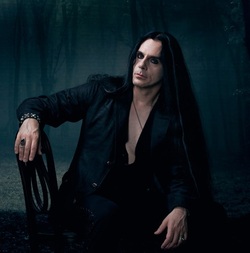 Also appearing as a Special Guest, the one and only Baron Misuraca!
From
www.realvampirenews.com:
"From the darkened streets of New York City comes forth Baron Misuraca – singer, song writer, musician, horror icon, alternative model, writer/main character of the In Flesh and Spirit comic book series and originator of Goth metal pioneers- Vasaria!"
"Known for his dynamic baritone voice, charismatic presence and floor length hair, Baron Misuraca has certainly left his indelible mark within the realm of the Goth subculture and beyond. He has performed to audiences the world over, has been seen on the Discovery Channel, TLC and MTV, and has been featured within the pages of countless publications and in independent film projects."
YOU WON'T WANT TO MISS THIS!!
http://www.baronretrolounge.com/
---
---
---
---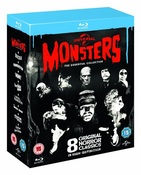 Anyone who orders their ticket(s) in advance
will be entered into a drawing to win the special
UK Blu-Ray edition of "Universal Monsters: The Essential Collection"!

---
To order your ticket(s) in advance, click on the image below. Venue capacity is limited, so don't be left out!