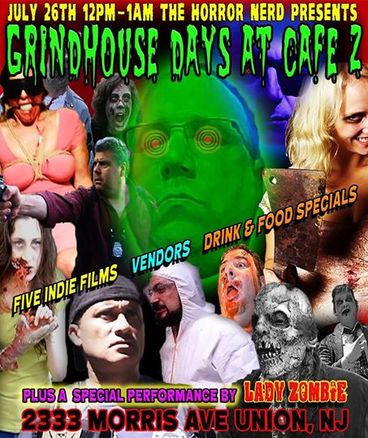 ---
Film Lineup

---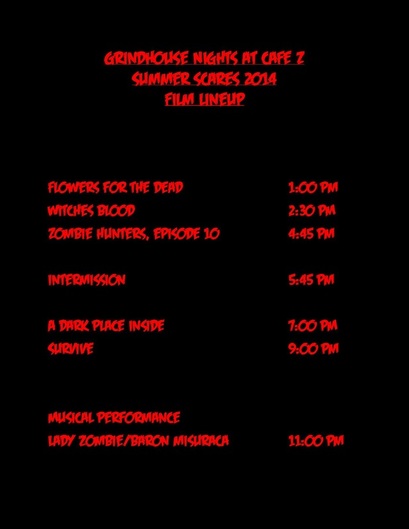 ---
SURVIVE

Global terrorists defile New York's water supply with a deadly dose of mind melting bacterium, mutating the population into undead murdering machines hellbent on non-stop brutal carnage. Can eight strangers band together to survive the endless hordes of the bloodthirsty dead? Will they be able to survive each other? WILL ANYONE SURVIVE?

"Survive" is an awesome zombie gore flick from young NY filmmaker Liam Makrogianis. Not to mention the fact that The Horror Nerd makes an appearance as a bloodthirsty zombie!

Liam and other cast & crew members will be on hand to answer your questions, pose for pics, and mingle with the fans.

---
WITCHES BLOOD

Sheriff Tom and Mary Horror are back in "Witches Blood", the final entry in the "Mary Horror" Trilogy from NJ filmmaker Ryan Scott Weber.

Mary Horror is back! She has her spell book and is ready to wreck havoc on the small town of Bernardsville. She needs the Witches blood of the four witches who created the spell book to make it her own once again. Sheriff Tom will do anything to stop her from destroying everything in her path and to get the book back in his hands. Third times a charm in the ultimate showdown between Sheriff Tom and Mary Horror in WITCHES BLOOD!

Ryan, Joe Parascand and other cast and crew members will be joining us to discuss the film, sign autographs and pose for photos.

---
ZOMBIE HUNTERS: CITY OF THE DEAD
EPISODE 10

Before "The Walking Dead" hit the national airwaves, "Zombie Hunters: City of the Dead" took survival horror to new television limits! This independently produced, underground cable horror hit features a rag-tag group of survivors stuck in a zombie-ravaged New York City who must fight every step against not only hordes of the undead, but also the living in their hunt for weapons, food, shelter and escape! As seen on "The Monster Channel".

Join us for a special screening of Episode 10 of this amazing zombie TV series. Several cast and crew members will be on hand to mix and mingle with the fans, and hopefully, protect us from any zombie attacks that may occur.

(Series synopsis courtesy of Zombie Hunters on Youtube)

---
FLOWERS FOR THE DEAD

"Flowers for the Dead" is a B&W, Super 8 tribute homage to the original Night of the Living Dead, it's filmmakers, and fans. Filmed at the same location as the original Night of the Living Dead in Evans City Cemetery in PA. Additional filming took place in Westwood, Ridgewood, & Mahwah, NJ.

NJ Filmmaker Joe Barbarisi takes us back to the glory days of Super 8 filmmaking with the fantastic short film. Joe will be in attendance to answer your questions and talk about his film.

---
A Dark Place Inside

To survive, Andy commits heinous acts of murder to find refuge from a world that is, in essence, mad; a world where we deny our true will, thoughts and desires. How many people like Andy commit heinous acts in their attempt to "cope" with an insane society? Andy has a very dark place inside.

From local filmmaker Mike O'Mahony comes this twisted little gem.