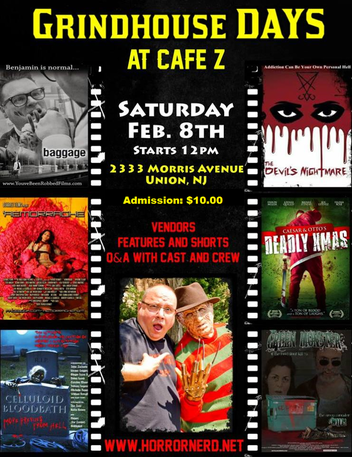 Join us if you dare for a day of horror chills and thrills with me, The Horror Nerd, as I present a full lineup of independent horror films!!

Most of the filmmakers will be in attendance to meet the fans, answer questions, and sign autographs. There will also be other cast and crew members in attendance. There will be a full Q&A session after each film, so be prepared!

There will also be vendors selling DVDs and other merchandise, character actors, prize drawings, and other entertainment surprises.

Venue capacity is limited, so click on the link below to order your tickets in advance through Paypal!

---
SPECIAL GUESTS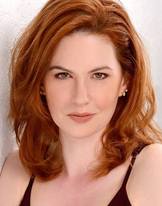 One of our special guests will be model and actress (and good friend of The Horror Nerd!) Seregon O'Dassey!

The lovely Seregon, star of many indie films including "Captured Hearts", "Cleric", "Reunion 108" and "The Devil's Nightmare" (which we will be screening at this event), will be appearing and will have photos, posters, DVDs and other items available for sale and signature!. Be sure to say hello!

---
---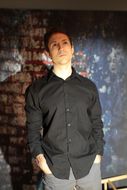 Also joining us, one of the hottest writer/directors in the indie horror scene, Dave Campfield!! Dave is an award winning filmmaker best known for his "Caesar and Otto" horror comedies and he's currently working on his latest project, a psychological horror film entitled "Fear the Reaper".

Come on out and meet Dave and join us for a Q&A after the screening of "Caesar and Otto's Deadly Xmas, and click on the image to visit Dave's website.

---
---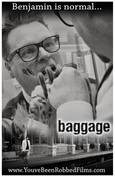 Writer, director, horror host....what doesn't Rob Dimension do? Rob will be presenting his short film "Baggage", which recently won audience choice for Best Short at the Macabre Faire Film Festival, making Rob the festival's first two-timer winner. Rob will also be signing autographs, posing for pictures and selling posters, DVDs and other merchandise throughout the day.
---
---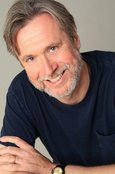 This man really needs to introduction. If you're into the indie horror scene, then you already know Edward X. Young, who has appeared in more than 60 independent films, including "The Green Monster", which he will be supporting at our event. Ed is a great guy and tireless supporter of the indie film industry and is a true friend. Rumor has it that Ed LOVES to post for pictures, so be sure to say hello and take a pic!
---
---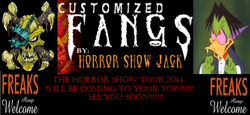 Have you ever wanted to be a vampire, werewolf or just to have the ability to bite someone's throat out? Well, here's your chance! Horror Show Jack is a familiar face on the convention and festival circuit, and he will be on site to mold your custom fangs. Be sure to stop by and get some fangsssssssssssss!
---
---
The Girls of Grindhouse!!
While you are here, be sure to meet the Girls of Grindhouse! Missy, Carolyn (who is also my lovely co-host) and Michelle will be here!!! These lovely ladies have an appetite for horror, and maybe even a dose of mayhem. They will be mixing and mingling with the fans, and will be available through the day for photo ops! Don't be afraid to go up and say hello. They don't bite........hard......
---
---
---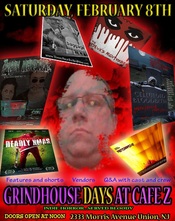 Wanna see the official Event page on Facebook so you can confirm your attendance and prove to everyone how awesome you are? Well, just click on the image!

---
---
Cafe Z, at 2333 Morris Ave. in Union, NJ is a full service Italian restaurant and bar. We will have food and drink specials available all day, and the full restaurant menu will also be available upon request.
To visit their website, go to www.cafeznj.com.
Admission for the entire day is only $10.00 which entitles you to all film screenings, the vendor room, entry into various prize drawings, and other entertainment surprises. Tickets are available at the door, but venue capacity is limited, so you are encouraged to buy your ticket(s) in advance. Click on the logo below to pay with Paypal. Keep your receipt and exchange it for a wristband on the day of the event.