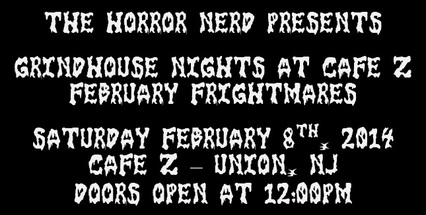 ---
Vendors
---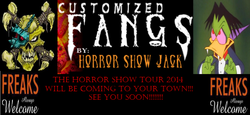 Do you fancy yourself a vampire? Maybe you just want to look like one. Well, you're in luck! The master of customized fangs himself, Horror Show Jack, will be on hand to transform you into something terrible!

The Horror Nerd and Grindhouse Nights at Cafe Z are please and honored to have Horror Show Jack at our event!

---
---

Rob Dimension, writer/director/actor (among other things) will be here, with DVDs, shirts, posters and other merchandise. If you smile nice, he might even sign your items!
---
---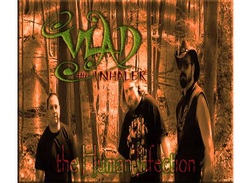 What??? Tom Ryan, director of "Day 9" (and of cowboy hat fame) will be on hand, selling the latest CD from his band, Vlad the Inhaler, along with other goodies. He might even pose for a picture or two!
---
---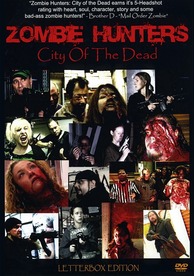 Yes! The Zombie Hunters will be represented! Devarez Films will be here offering all of the greatest Zombie Hunters: City of the Dead merchandise you could ever want!
---
---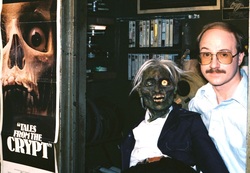 James Murray, director of "Celluloid Bloodbath: More Prevues from Hell" along with ventriloquist Nick Powlow, and his buddy Happy Goldsplat will be around to entertain you, and to take pics and sign autographs. Be sure to stop at their table!

---
---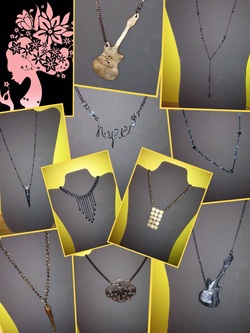 Do you like custom, hand crafted jewelry? Do you like custom, hand crafted jewelry that's pretty, but with an edge? No? What the hell is wrong with you?

Real Dope Chic loves to create interesting and eclectic pieces involving wire-wrapping, clay, chain, crystals, and vintage items. Inspired mostly by rock n roll and punk, she loves to make things pretty but with a hard edge. She loves mixing metallics and playing with shapes to make unique conversation pieces.

The Horror Nerd commands you to stop by her table and check out her amazing work!

---
---