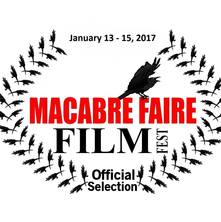 Starting off the brand new "News" section of my website with a note about a film festival that is near and dear to my heart, the Macabre Faire Film Festival.

This festival, taking place at the Clarion Hotel in Ronkonkoma, NY (Long Island) from January 13th - January 15th 2017 is a festival unlike any other, and has been called "Sundance With Fangs". Event host and promoter Elsie GInsberg works tirelessly to put on an impressive event.

I have attended every MFFF since the first one, and it never ceases to amaze me, because it's all about the films and filmmakers. Yes, there are a few celebrity guests, but they are an integral part of the show, as opposed to just sitting behind tables just signing autographs. The bulk of the show consists of film screenings, and mixing and mingling with the cast and crew of the films, many of whom are in attendance.

The Saturday night red carpet gala and awards ceremony is an event not to be missed. Everyone is "dressed to impress", and there are red carpet interviews and photos ops, and an event filled with awesome entertainment and of course, a lot of fun!

If you're into indie filmmaking and want to see some amazing films, or if you're just curious about what these festivals are all about, come on out and join us! This is an event not to be missed! Click on the image below to go straight to the event website and get your tickets!