"The Witch", 2016 - Dir. by Robert Eggers
---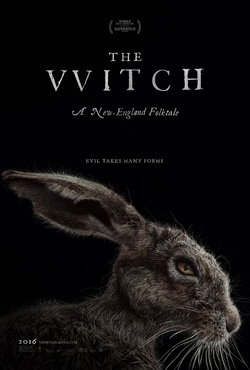 What happens when fear, religion, paranoia, isolation and a possible case of witchcraft all come together to torment a New-England family living as outcasts? Well, "The Witch" tells such a story in excellent fashion. People have said that "The Witch" is not a horror film, or it's not a "real" horror film, and they have complained that "nothing happens", but I wholeheartedly disagree. If you think this is not a real horror film, or that nothing happens, then you're simply not paying attention or, if I decide to be generous, this type of "slow burn" film is simply not your thing.

William (Ralph Ineson) and his wife Katherine (Kate Dickie), are two deeply pious New-Englanders who run afoul of the local population, apparently because their religious beliefs are too extreme, even for The Puritans. The two and their five children, Thomasin, the eldest daughter, Caleb, the eldest son, twins Mercy and Jacob and their newborn boy are banished from the village, and build a new homestead/farm at the edge of the forest. As we watch the family head out on their wagon, the gloomy, depressing nature of the film kicks in right away. Without seeing anything, we all know that bad things are probably in store for this family.

We're not wrong, and we don't have to wait long. By now, people should know that I don't like to give away too many plot details in my reviews, so I will summarize. The infant son goes missing, the female goats stop giving milk, the crops fail, and the twins seem to be able to communicate with the black male goat, "Black Philip". (By the way, Black Philip is awesome and I want a Black Philip replica for Christmas).

Anyway......things unravel very quickly. Paranoia and hysteria start to set in, with family members taking turns blaming each other for the misfortunes that befall them. What is really happening here though? Is this just the story of a deeply religious family going through a spate of bad luck, and letting the isolation get to them, or is there something malevolent at work? I encourage everyone to see this film, and find out for themselves
---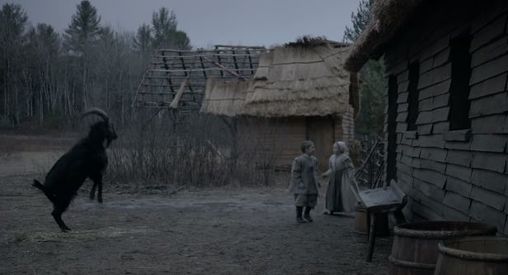 As I mentioned in the opening of this review, this is a "slow burn" film, and apparently, this is one of the main criticisms that has been hurled at it. I honestly don't know what some people are looking for in a horror film. If all you are looking for is quick jump scares, or buckets of gore, then this is not the film for you. However, if you want to see a well crafted story that builds a feeling a gloom, dread and paranoia, then you are going to have a great time with "The Witch".

Director Robert Eggers spent years researching the period in which the film is set, and he took great pains to make sure that all of the details are correct, and it shows. The actors do a great job with the old English dialogue they were required to learn, which is even more amazing considering that most of the cast is so young. All of the attention to detail helped to draw me into the world of the film. Eggers also shows us something right up front, which masterfully holds our attention throughout the film. If he had waiting until the end, the effect would have been greatly diminished in my opinion. Once you see the film, you will know what I mean.

The cinematography is outstanding. Every frame seems to capture the doom and gloom surrounding our characters and the score, by Mark Korven, is even more unsettling. The visuals and the music combine nicely to give us a very creepy film. I truly felt that I really was right in the middle of an "New-England Folk Tale", which is the tag line for the film.

"The Witch" makes its feelings about the existing of the supernatural very clear, but at the same time it gives us insight into what isolated people, with strong religious beliefs and fears, might be going through when things start going awry. As things start to escalate, hysteria sets in, and the accusations start to fly. Watching this deeply religious family struggle to deal with what might very well be true evil in their midst is fascinating. The film makes us feel what people of the period felt during a time when witches and witchcraft were very real dangers.

In closing, "The Witch" is a slow descent into madness, paranoia and perhaps the supernatural that leads to a climax that I thought was very effective due to the fact that it was very understated, and thereby, all the more chilling.

Trust The Horror Nerd people. If you want to see a film where acting, story, camera work and score all come together to provide excellent chills, then go and see "The Witch"!

---
Horror Nerd's Rating: 4 out of 5 Broken Eyeglasses!
---