"Sudden Reality", 2015 - Dir. by Matthan Harris
---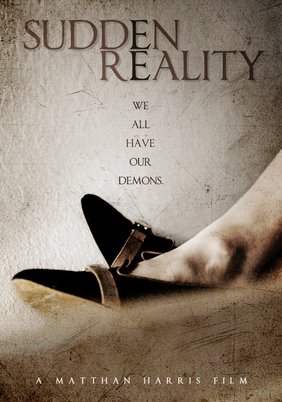 We've all developed an obsession with someone, haven't we? Well, what happens when that obsession takes a very dark turn? That is the basic essence of what is explored in "Sudden Reality", a terrific short film by actor/director/writer Matthan Harris.

The Horror Nerd had a chance to view "Sudden Reality" as part of a film festival and, honestly, it was one of the highlights of the short film category.

Harris, who originally hails from Texas, but now resides in LA, has crafted a taut, exciting and through provoking 17 minute horror/thriller that does make us question the "reality" of what's happening on screen.


Harris' character, Josh, is a college student who is obsessed with a beautiful and charming girl on campus, Sandra (expertly portrayed by Sarah Kate Allsup). Unfortunately, Sandra is already with someone, a handsome, athletic frat boy. John's best friend Kevin (played by Jacob McGregor) keeps trying to dissuade him, reminding him that he cannot have her, but Josh's thoughts keep coming back to her. It's so bad, that when she's around, Josh's behavior comes across as thoroughly creepy, which further pushes her away.

As the story progresses, we see Josh's obsession progress, along with some jarring imagery that tells us that things might not be all that they seem, and that the girl that Josh is obsessed with, might be something more than just the "pretty girl next door" type. Tensions build between Josh and Kevin as well. Kevin does his best to get Josh to move on to someone else, but........it doesn't seem like that is really going to happen.

As you faithful readers know, The Horror Nerd doesn't like to give away too many plot details, so what I will say is this. All of this builds to an exciting and ultimately shattering climax that had me on edge. The entire film is only 17 minutes, but those last two minutes......wow!
---
---
I've always admired short-form film. I'm impressed when a writer and director can tell a complete story in a short period of time, and "Sudden Reality" is a great example of this. Matthan Harris sets the tone, tells the story, and moves through to the climax without wasting a single word or shot. I can't tell you how many short films have gone on just a little too long, or how many feature films turn out to be an attempt by a filmmaker to take a short film and pad it out to feature length. The script for "Sudden Reality" is just right as far as I am concerned. Full credit to Sarah Kate Allsup for her co-writing contributions.

The acting is superb. So much so, that co-star Jacob McGregor won "Best Supporting Actor in a Short Film" at the 2017 Macabre Faire Film Festival. An award that was justly deserved. McGregor does an excellent job playing the role of the best friend who is trying to do get his buddy to do the right thing. Harris himself does an amazing job portraying a guy who is obsessed with a girl that he cannot have, yet cannot stop thinking about, and Sarah Kate Allsup has an excellent turn as the pretty and nice "girl next door" who just might not be everything she appears to be. The interplay between all three characters is fantastic, which is a tribute to both the script and to the acting abilities of those involved.

The film is very well shot and edited, and the soundtrack fit the story very well. I'm not sure what the budget was for this film, but Harris did an excellent job regardless of what that number was, and cinematographer Graham Futerfas should be commended as well, for shooting such a beautiful film.

What I truly liked most about "Sudden Reality" is that it is a though provoking film. Again, I am not going to give anything away, but my feelings are these. On one level, it could be thought of as obvious as to what the film is about, but on another level, I think I perceived it in a different way, and my feelings as to what is really going on might be different from the "obvious" view. I like the fact that the film did that. I personally do not need a movie plot to be tied up neatly. I like being made to think for myself and, to that end, I am STILL thinking about the ending of "Sudden Reality"!

---
Horror Nerd's Rating: 4 1/2 out of 5 Broken Eyeglasses!
---
NOTE: All images are property of "Sudden Reality" and the filmmakers. NO copyright is claimed or implied.