Vile, 2011 - Directed by Taylor Sheridan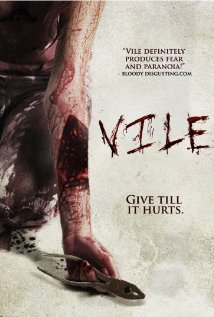 I went into this one figuring it was going to be another typical "torture porn" film. While that's not entirely true, it was decidedly a mixed bag. Truthfully, I am still not sure if I really liked it or not.

The setup is relatively simple and somewhat familiar. A group of friends is on a trip, and they pick up a hitchhiker when they stop to get fuel. She ends up knocking them out with some kind of gas, and they awake in a house, trapped there with another group of people. They all have a device attached to their necks, with some sort of brain fluid dripping into a vial. It is explained to them that they must fill the vial with this fluid, and the only way to do so is to undergo extreme pain. Once their vial is full, they will be allowed to leave. Let the games begin!!

From there, we descend into some of the usual torture antics. In some cases, the violence is graphic, and in other cases, it is not, which is fine with me. Sometimes in a movie what you don't see ends up being better than what you do see.

You can clearly see that the filmmakers are new to the game. The script is uneven at times, and I cannot help but wonder what we will see when this director has had a chance to hone his craft a bit. The acting is also a mixed bag. The lead actress, April Matson, seems determined to turn herself into some kind of a scream queen, but she has a long way to go before she can earn that title. There's also the usual "annoying girl", "wants to be a hero guy" and "guy who we suspect knows something about what's going on."

The ultimate resolution was a little different than what I had expected, and for that I was grateful.

Look, when all is said and done, how much can you really do with the "torture porn" genre that has not already been done? It's like found footage, or zombies, or anything else. In this case, the filmmakers tried to go in a bit of a different direction, which I can admire. They didn't always hit the bullseye, but that's OK. For a film that I would probably never have known about if it weren't for Netflix, it wasn't bad. Give it a go if you have the time!

Horror Nerd's Rating: 2 1/2 Broken Eyeglasses!!

---