The Turnpike Killer, 2012, New York Horror Film Productions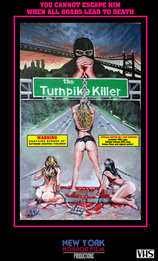 In the interest of full disclosure, let me state up front that most of the people involved with making this film are friends of mine. Having said that, I feel I can give an honest opinion of the movie. If you are longing to return to the days of grindhouse and exploitation films, then this is the movie for you! The plot is fairly straightforward. A hulking serial killer stalks the streets of New York looking for victims, which he then proceeds to dispatch in exceedingly violent manner, and then dumps their bodies off the New Jersey Turnpike. However, directors Brian Weaver and Evan Makrogiannis have gone out of their way to really make the viewer uncomfortable. There is a home invasion scene that actually made this Horror Nerd's skin crawl. What really makes this film effective is that it's filmed in a way to make the viewer believe that it actually was made back in the 70's, as opposed to being some sort of half-assed "homage" film. The movie is not perfect, to be sure. The sound is a little uneven at times, as is the acting, but then again, things like this have always been hallmarks of these types of films, so you can easily get past them.
Last, but certainly not least, what really makes this film cool is that it was released in a retro style, big-box edition which contains a DVD copy, a VHS copy, and an awesome poster. Producer Nik Taneris went to painstaking lengths to get the packaging spot on. As true horror fans know, VHS is becoming more popular than ever, and the big-box edition of "The Turnpike Killer" will be a showpiece of anyone's collection. It can be ordered by going to
www.turnpikekiller.com
.
The Horror Nerd's rating: 4 of 5 broken eyeglasses!
---