Prometheus, 2012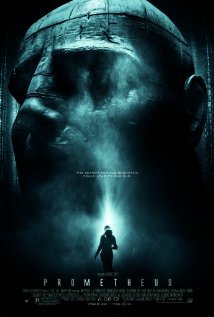 As a huge fan of Ridley Scott, and especially of the "Alien" franchise, I had been salivating over this movie ever since I first heard Ridley speak of it. (I'm sorry if that's a disturbing vision). I tried not to pay too much attention to the hype, because that's what kills films.

Finally, it was here, and I ran people over with my car to get to the theater. I am not even going to go into too many plot details here. The reason for this is that I am soooooooo frustrated with some of the user reviews and comments I have heard and read about this movie. In short, the film deals with a team of scientists, explorers, and other characters who are following a trail left by aliens, that seem to point to the origins of life on earth. They go in search of these 'engineers' as the lead character refers to them, and what they find is, shall we say, less than friendly. I encourage everyone to see the film, more than once, before you pass any judgment. If you haven't actually seen it, then don't bother me with your opinion.

Now, on to my opinion of the film, and why I am so frustrated. I thought the film was exactly what it was supposed to me. A big-scale, epic science fiction film, with grand ideas about the universe, and our place in it. On the technical side, the film is a marvel. I actually believed I was on that alien planet. The sets, backgrounds, vehicles, etc., were all amazing. The acting was a little uneven, but that happens in almost every movie I have ever seen. One of the standouts was Michael Fassbender at the android David. His performance was one of the best I have seen in any film so far in 2012.

On to the plot. I'm going to quote myself when I say, "I honestly don't know what people are looking for in a movie anymore". Have attention spans gotten so short, and thought processes so limited, that we need everything explained away and tied up in a neat little package? What happened to "cerebral" science fiction movies like "Solaris", "Blade Runner", and "2001"? What's wrong with a film that makes you think and ask yourself, "What did I just see? What did all of that mean"? Regarding "Blade Runner", another Ridley Scott film, people are still asking the question, "Was Decker actually a replicant the whole time?" That's the great thing about movies like that, they make you THINK! Then again, we live in an era of smart phones, sound bites, and movie clips, so maybe people don't want to think, they just want everything spoon fed.

And don't get me started on one of the biggest complaints about the film, that it didn't turn out to be a true "Alien" prequel. Oh well, too late, I'M ALREADY STARTED!

IT'S NOT A DIRECT ALIEN PREQUEL AND IT WAS NEVER SUPPOSED TO BE!!! Please, someone find me one article where Ridley Scott says "This is a direct prequel to Alien". It's a prequel in the sense that it takes place in the same fictional universe as the "Alien" films, and there are some other loose threads to the Alien franchise, but that's it. I can't believe people are complaining because some of the things in "Prometheus" don't tie directly to "Alien". For example, people are saying "Why is the space jockey head in 'Prometheus' a different size than the one they find in the derelict ship in 'Alien'"? Or, and this one kills me, "Why is the space jockey head in 'Prometheus' different from the one on the wall of the alien ship in 'Predator 2'"? What??? Are you even serious?? I realize we're all a little nerdy with this stuff, but what is the point of even making that connection? The franchises don't even have anything to do with one another. I just can't stand this silly crap any more.

I could go on and on, and I invite debate about this movie. The bottom line is, I loved it. Is it perfect? No! Are there some plot holes? Yes! But, just because it leaves some questions unanswered and some mysteries unsolved, does not make it a bad film. Go and see it, and THINK!

The Horror Nerd's Rating: 4.5 of 5 broken eyeglasses!

---