The Possession, 2012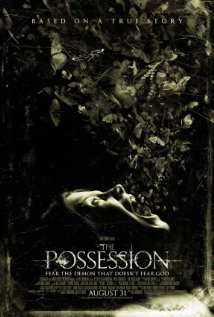 When I left the theater after seeing this film, I said "Wow, I liked that a lot!" Now that I have had a chance to think about it, I still like it, but I am not so sure about the "a lot" part. I am a big fan of possession and religious themed horror films, and recent entries with these themes, such as "The Devil Inside", have let me down, so I was very much looking forward to "The Possession". While this one is a bit better than most, it's still basically a retread of things we have seen before.

The prologue shows an older woman having an encounter with a wooden box sitting on her mantle which does not go well for her. Right out of the gate, we are treated to the "body contortions" that seem to have become a hallmark of all possession films of late.

Cut to a recent divorce' (Clyde, played by Jeffrey Dean Morgan) and his interactions with his ex-wife (Stephanie, played by Kyra Sedgwick) and his two daughters, Emily and Hannah. We have all the familiar tropes. Dad is wrapped up in his career. Mom has a new boyfriend that is instantly unlikeable, and the kids are caught in the middle of all this. Dad is so distracted that he doesn't pay attention to the odd wooden box that young Emily wants to buy at a yard sale. Said box is carved with strange Hebrew writing and seems to be unopenable. Well, our intrepid Emily finds a way to open it, and things go downhill from there. Once the box is opened and "stuff" starts to happen, we do have some good scares along the way. A room full of large moths is guaranteed to creep some people out, and again we have some creepy body contortion stuff. As things get progressively worse, mom and dad do not know what to do, and some clever manipulations by whatever force is involved makes it appear that dad is abusing Emily, which makes life with the ex even worse.

Upon turning to one of the professors at the school where he works, Clyde learns that the box likely contains a "Dibbuk", which is a type of Demon or "wandering spirit" in the Jewish faith. In an unintentionally hilarious scene, Clyde drives to a Jewish community and is literally surrounded by an 'ocean' of orthodox Jews, all of whom mysteriously disappear into whatever shop they happen to be closest to. All except for Tzadok (portrayed excellently by Matisyahu) to whom Clyde turns for help. When Tzadok's elderly father and the rest of the Jewish elders refuse to help, Tzadok offers his services, stating that religious rules can be broken when a life is at stake.

In the final act of the film, we have a fairly typical "exorcism" type scene, where Tzadok and the family do battle with the Dibbuk to force it back into the box. Our final scenes show the family happily mending fences, and all is well. OR IS IT???

OK, so what I liked about the film is that we finally got away from the Roman Catholic aspect of possession and exorcism and explored some Jewish mysticism. I thought this was a fresh take on something that had gotten very tired. How many times do we need to see dark, gothic churches, priests, crosses, etc. Also, there were some good jump scares and some genuinely creepy moments. As the father of a little girl, I can completely understand Clyde's anguish when he sees his child being tormented, and there seems to be very little he can do about it.

What I didn't like? Well, it all seems very familiar. Demon invades family, family turns to a religious figure for help, person does battle with evil, etc. I also think they could have done a much better job with the scenes involving Clyde's interaction with the Jewish elders. Some if it is so off-base and unintentionally funny that it might almost be considered an insult to the Jewish community.

Overall, this is a very competent horror film, and it's worth a watch. Just don't expect to be blown away.

Oh, and for the love of all things horrible, PLEASE STOP COMPARING THIS AND EVERY OTHER POSSESSION MOVIE TO "THE EXORCIST"!! This is like comparing a Toyota to a Ferrari and wondering why the Toyota doesn't perform at the same level. The Toyota is a perfectly good, serviceable vehicle, but it will never compare to the Ferrari. "The Exorcist" is one of, if not the, greatest horror films of all time, and comparing "The Possession" to it is simply not fair. Now CUT IT OUT!

The Horror Nerd's rating: 3 1/2 of 5 broken eyeglasses!
---