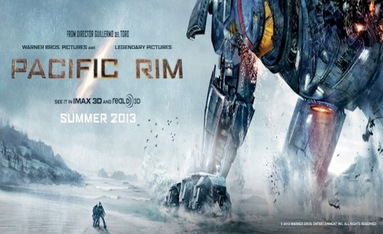 "Pacific Rim" - 2013, Dir. by Guillermo del Toro
There are a lot of "popcorn" movies every summer. Big blockbusters designed to thrill and entertain. Sadly, many of them today fall flat, with the same old formulas, lame acting, and audio/visual overload. Then, along comes a film like "Pacific Rim", which, while is does follow some familiar formulas, is different enough to be highly entertaining, and to make film buffs like myself rejoice.

The films jumps right into the action. For years, giant creatures known as Kaiju ("strange beast") have been coming through a dimensional rift located deep in the Pacific Ocean. When conventional weapons fail, the Jaeger ("hunter") program is launched. Enormous robots are constructed to battle the beasts. They are so massive, that two pilots are required to operate them. These pilots are connected via a neural link known as The Drift, which allows each pilot to see the other's thoughts, thereby allowing them to know what the other in thinking, and thus allowing them to control the Jaeger. As the Kaiju attacks become more frequent and more powerful, the Jaegers become increasingly ineffective. Eventually, the project is abandoned, and a series of giant walls is constructed in a last ditch effort to save humanity. In order to stave off the latest wave of Kaiju, a washed up Jaeger pilot and an inexperienced trainee are teamed up to to drive a legendary, but supposedly obsolete Jaeger to try and end the siege once and for all.

That's as much of the plot as I am going to give. I think by now everyone knows what this film is about!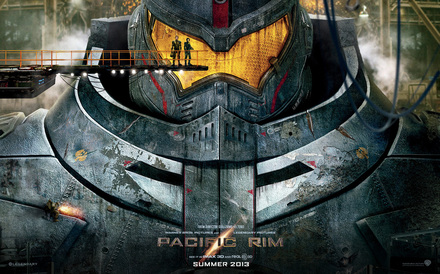 I am not sure where to begin when it comes to stating how much I loved this film! I grew up on a steady diet of Kaiju films, Godzilla, Mothra, Rodan, Ghidorah, Barugan, etc. Watching guys in rubber suits destroy miniature models of cities consumed most of my Saturdays. I was also a big fan of Voltron, Robotech, and other robot type stuff. So, basically, what I am trying to say, is that there was almost no way I couldn't like this movie. However, I have to be fair and point out the bad with the good.

The acting in the film does fall a little flat sometimes. But, BUT, it is NOT nearly as bad as some people are making it out to be. Yes, all of the archetypes are there. The damaged hero who is not sure he's the man for the job. (Played by Charlie Hunnam of "Sons of Anarchy" fame) The untested rookie (Rinko Kikuchi), the "over the top" commanding officer (the always awesome Idris Elba) and Ron Perlman as the "eccentric that provides something crucial". In fact, Idris Elba as commanding officer Pentecost is the one people seem to have the most issue with, accusing him over "overacting". Well, let's see. We're watching a movie about giant robots fighting giant monsters, and your biggest problem is that the commanding offices screams some of his lines, and give a speech reminiscent of "Independence Day"? Sometimes I fully and truly believe that there are people out there who are simply not capable of enjoying a film.

I must say that I did find the two key scientists to be very annoying in the fact that they were almost caricatures. I understand that sometimes intellectuals can be a little eccentric, but these guys, especially Burn Gorman as the "quirky one who thinks he's always right" were very irritating at times.

I do have a few minor nitpicks. I do feel that director Guillermo del Toro did borrow a bit too much from "Independence Day", and I do think that the writers could have given the supporting characters a bit more depth, especially the "cocky" Jaeger pilot played by Robert Kazinsky. A case could also be made that most of the Kaiju were unoriginal, but that could also be a positive, as I will discuss in a minute.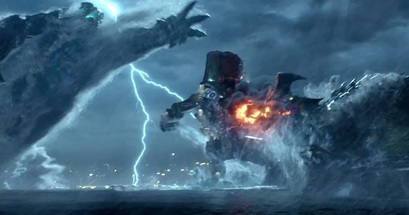 Ok, so now, what did this Horror Nerd like about the film? Well, let's see. How about EVERYTHING!? You can easily see how much Guillermo del Toro loves these genres. There's a bit of Kaiju (how awesome is it that they even used that term?). There's also a bit of robot tech, and a heavy dose of anime influence thrown in. del Toro basically wrote a visual love letter to all of these genres and he really pulled it off.

The effects are insane, especially during the fight scenes. I really did get the feeling that these giants were duking it out, and destroying a city in the process. For once, I truly got a sense of scale. Even when the characters are in the Shatterdome (the place where the Jaegers are built and repaired, and where training takes place), I really got the feeling that they were standing inside a massive structure, looking as massive, mechanical creations. For me, there really was no sense of "green-screen fatigue", and I was able to lose myself in all of it.

I also loved the concept of The Drift. Again, this is the neural link that the Jaeger pilots use which connects their thoughts so that they are able to effectively control the massive robots. This plot device allows del Toro to add a lot more depth. It comes into play with both of the main pilot characters, as they both have very different reasons for being so affected by The Drift.

As far as the Kaiju and the Jaegers were concerned, I don't even know what adjectives I could use without sounding like a ten year old, which is exactly how I felt! The monsters were very cool, and there were elements of all of the giant monster types were are familiar with. There were crab-like monsters, flying monsters, swimmers, etc. The influence of the original Asian Kaiju films is clearly visible, and I thought it was a great homage coming from del Toro.

The massive Jaegers are equally impressive. Again, I truly got a sense of scale from these things, and I WANT ONE SO I CAN CRUSH MY ENEMIES!!! Um, wait, sorry.....just kidding!!!!! (but not really).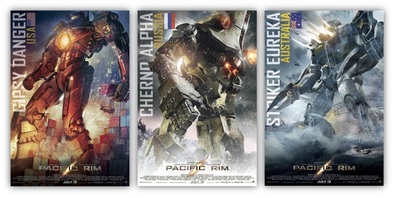 Overall, a truly loved this film. In a sea of endless sequels, prequels and remakes, it was refreshing to see something like this. Of course there are elements borrowed from other films. How can there not be? People need to stop going to the movies looking for things to complain about. If a film is bad, then it's bad, and I have seen my share of bad films, but if we go to the theater looking for perfection all the time, then we're going to be disappointed.

Go and see Pacific Rim. Let Hollywood hear loud and clear that there is an audience for these films. We don't need another bullshit remake, or Saw 22. We need more films like this!


Horror Nerd's Rating: 4 1/2 out of 5 Broken Eyeglasses!!