"Oz the Great and Powerful" - 2013, Directed by Sam Raimi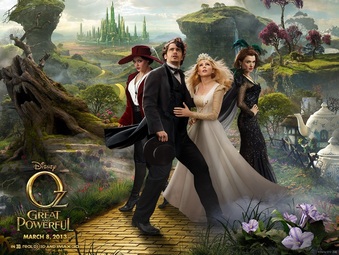 Again, not a horror film, but at heart, The Horror Nerd is a true film buff, and this film falls into the realm of horror/scifi/fantasy, and I had been looking forward to it for a long time. "The Wizard of Oz" is one of my all-time favorite films. Did this one hold true to the legacy of that film, widely considered a masterpiece? We shall see.

*WARNING* - This review may contain spoilers. The nature of the plot makes this unavoidable. If you don't want to know anything about the plot of the film, please do NOT proceed. You have been warned! I don't want to hear any whining about it later!

As far as I know, L. Frank Baum never wrote a prequel to the 'OZ' series of books, so Disney is taking a bit of a leap here in imagining the origins of our titular wizard. Our story mimics the arc of the original film, as it begins in Kansas in black and white, and then transports us to OZ, in glorious color and 3D (more on this later). This time though, we're not dealing with Dorothy, a wide-eyed innocent, but Oscar Diggs (OZ for short, and played adequately by James Franc0). We have a man who is a two-bit charlatan and ladies man, who happens to have an eye for the ladies, but does aspire to greatness, and to have a better life than his father, a farmer. At heart though, he's not a terrible person, and at least he even admits later on that he's not the magical "wizard" that everyone is expecting or hoping for.


---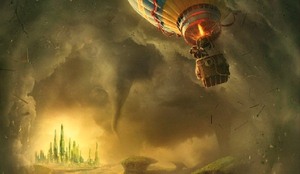 ---
Anyway....a very familiar tornado transports our reluctant wizard to the magical land of OZ. Here is where I got a major kick in the teeth. The visuals are astounding and the 3D is amazing. Finally, it seems that filmmakers are grasping the true potential of 3D, as opposed to using it as a marketing trick. These visuals blow Tim Burton's "Alice in Wonderland" out of the water as far as I am concerned. Our "hero" meets up with Theodora (played by the absolutely stunning Mila Kunis), a good witch who tells him of a prophecy that a great wizard would come to OZ an save the people from the wicked witch. Oz himself however is more interested in the throne and riches that come along with the title of "king".

As we reach the emerald city, we meet an entire cast of supporting characters, who fill all of their roles quite nicely, with the exception of a talking "bell-hop" like monkey (voiced by Zach Braff). This is the one character in the film who, though he ultimately tones it down, I found so irritating that I wished the wicked witch would get him. Along the way we encounter Glinda the good witch (Michelle Williams), Evanora (the equally stunning Rachel Weisz), who is Theodora's sister and also witch, although with questionable motives. We also have Tinkers, Munchkins, evil flying baboons and an AMAZING character in the form of a walking, talking china doll (voiced by Joey King). I never thought I could develop an emotional attachment to a toy, but I did. The dolls movements and mannerisms are absolutely incredible, and she ultimately plays a very important role in the story, along with providing an emotional center.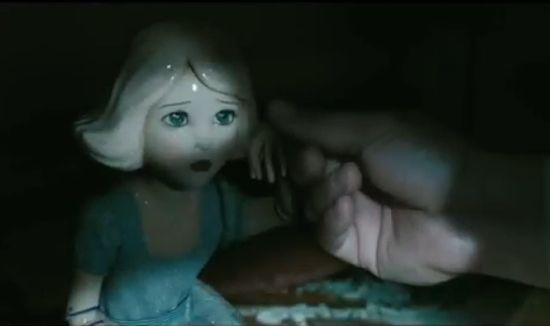 I want to get to my actual review and what I liked and didn't like, so I will summarize the story thusly. We follow our reluctant wizard along his journey towards redemption. Along the way we witness the origins of the Wicked Witch of the West, a classic movie villain, and whose transformation (triggered due a betrayal by our wizard) represents the key turning point of the film. Will our two-bit hustler become the savior that the people of OZ have been hoping and waiting for? Well, we find out, and we get two witness amazing magic, fierce battles among witches, and we get to see some very clever nods to what we are already familiar with in "The Wizard of Oz".

OK, so what did I think? Well, overall, the Horror Nerd loved this film. It was exactly what I wanted it to be, which is pure movie magic. I am still like a wide-eyed child when I go to the movies. The fact that "The Wizard of Oz" is such a beloved film for me definitely added to my enjoyment. I spotted every little wink and nod to that film that existed in this one, which added to my enjoyment of it.

As I mentioned before, the visuals are amazing. While there's no "need" for 3D, I felt that is one of the rare films that gets it right. The landscapes are stunning and the point of view shots are extremely immersive. The creature creations and characters are very cool. We see nods to the Cowardly Lion, Scarecrow, Tin Man, etc. We also get to see another 'origin' story, and that's how the Wizard becomes "the man behind the curtain". All of these things were very, very cool. The witches themselves are equally cool, each with their own visual style and personality, and the flying baboons (NOT monkeys) are actually kinda scary.

One of the things that I found most amazing was the "China Doll" character. The combination of puppeteering and motion capture really brought her to life, and as I said before, I actually found myself caring about this doll. You just have to see it to understand what I am talking about.

Again, in general, I really loved this film. Again, part of this is because I love "The Wizard of Oz" so much, and the ties ins really sealed the deal for me. Also, since I am so willing to just enjoy these movies for what they are, I am able to leave any "hate" I might have at the door, and just sit back and enjoy. Speaking of hate, I can actually already feel it brewing, and I am just waiting to read all the venom and negativity about this film that will be flooding the Internet over the next few days.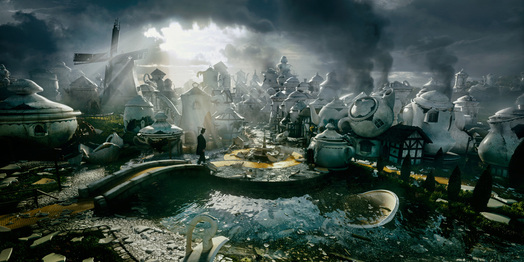 But wait Horror Nerd, there must have been something you didn't like!!

You're right! There are a few things I didn't like. First, as much as I enjoyed the tie-ins with the original, this film suffers under the weight of an all-time classic. It's almost impossible NOT to compare them, no matter how unfair that might be. That's just how it is. In addition, despite the advantages that green-screen and CGI bring, the set productions of the original are still some of the greatest ever. So there are times, despite the amazing visuals, where I was wishing for a good old fashioned set design.

Second, James Franco cannot help being James Franco. He doesn't sleepwalk through this role like he usually does, but there are times when he wasn't so much playing a character as he was just being himself. I know that Johnny Depp and Robert Downey Jr. both passed on this role, and I almost wish I didn't know about that, because I can't help but think that either one of them would have done a superior job. Franco is passable, but it's still Franco.

There are definitely some problems with the story. It seems that "the prophecy" is used to explain away far too many details, and too many problems are solved with the wave of a wand. There's also the element of knowing how the story ends, with this being a prequel and all. However, that's the nature of prequels, and there's not much that can be done about that.

Oh, and I really, really didn't like the talking monkey that becomes the wizard's "sidekick". He was there for comic relief and eventually

SPOILER AHEAD.....YOU HAVE BEEN WARNED, AGAIN!!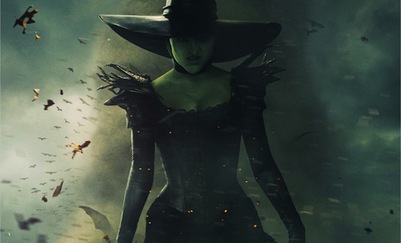 Lastly, we came to the thing that I really, really didn't like. This element was really disappointing to me because I am such a fan of the Wicked With of the West. She is one of my favorite characters in all of literature and film. When I watch the original "Wizard of Oz", I wait for the first time the witch makes her appearance, and I still love it. Margaret Hamilton's portrayal will still be talked about in another 100 years.

In "Oz the Great and Powerful" we get to witness her transformation from good witch into wicked witch. She starts out at Theodora the Good, playing by the stunning Mila Kunis. Part of my problem began the first time we see her, squeezed into leather pants that seem ready to burst. Now, the Horror Nerd likes looking at pretty girls as much as the next guy, and she looked really, really good in those pants! But, but, it was a little over the top, almost as if they were exaggerating her beauty and sex appeal so that the events that happen later seem even more dramatic.

When the transformation happens, it's due to perceived betrayal, along with the machinations of her sister, Evanora, who has plans of her own to rule Oz. We don't witness the change outright, but we see it in shadow, and then a green hand and fingernails. I must admit though, I did get chills twice. Once when the witch transforms her original red hat into the familiar black one, and then again when she makes her appearance at Glinda's castle, in a pillar of fire, in a nod directly to her first appearance in the original.

When we finally see the Wicked Witch of the West in all her glory, what do we have? A super-sexy Mila Kunis in a witch costume. Ugh! They have her squeezed into a tiny leather dress, with corset and all. I admit, she's a hot witch! But she's NOT the Wicked Witch dammit!! Even her face looks like Mila Kunis dressed up in Halloween makeup.

And the voice....THE VOICE!! Imagine an angry Meg Griffin from Family Guy and that's what you have. One of the most terrifying characters in film history is reduced to an angry cartoon character. When she's screaming threats of death and destruction, I just didn't buy it. I didn't believe that a sexy witch in a tight outfit and a high-pitched nasally voice was threatening thousands of people with fiery death. I was so disappointed that I wanted to cry. Again, I understand that they have to inject a modern sensibility into the film, and they have to appease the fanboys somehow, but they definitely could have played this differently. The only thing I can think of is that the assumption is that she's still young when she transforms, but the idea is that her pain and hate transform her from something beautiful into something ugly. The other thing I didn't get it why, if she feels betrayed by the wizard, she feels the need to destroy all of OZ because of it. The story just didn't sell this for me.


Nitpicking aside, I still really liked this film. There were enough nods to the original to keep me happy, and the visuals really are amazing. The witches are very cool, and it was fun to see how these characters became who and what they are. I recommend this film, but please, please just enjoy it for what it is, a lavish Hollywood spectacle!

Horror Nerd's Rating: 4 of 5 Broken Eyeglasses!