Man of Steel - 2013, Dir. by Zack Snyder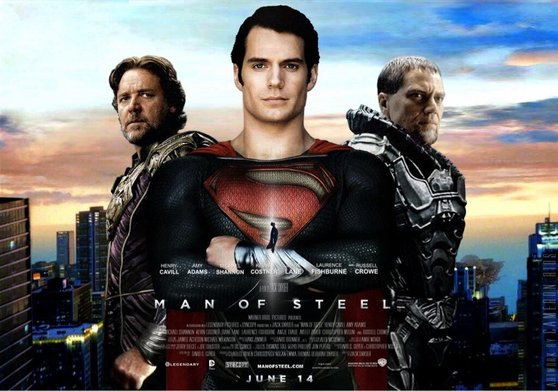 I must admit that 1) I am a comic book nerd, 2) Superman is one of my favorite characters and 3) this was one of the top three films I was looking forward to this year.

I had very high hopes and expectations going into this film and, I am happy to say that most of them were fulfilled. Yes, of course there were some things I didn't like about it, but that's to be expected. I have long maintained that there are no perfect films, and that there are very few that come close. I see some of the savage reviews of this movie and I JUST DON'T GET IT. Why do some people even go to the movies? It seems like everything sucks and they hate everything, so why not just mail the theater a check for $25 and stay the hell home? But I digress, so, here we go!

Our film begins with the origin story that most people are familiar with. Jor-El (Russell Crowe, in what is now one of my favorite roles for him), is trying to convince the leaders of Krypton that their planet is doomed. I was very happy to see that we are finally shown a fully realized Krypton, with cities and structures and weird creatures. Past incarnations of Superman skimped on this for budgetary reasons, but now we believe that Krypton is a real place.

In storms General Zod and his follows. Zod is played with savage intensity by Michael Shannon in an excellent turn. He too has had enough of the old and decrepit rulers of Krypton, but for different reasons. He squares off against Jor-El, and makes it clear that what was once a close friendship, is now over.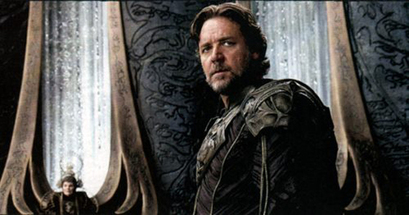 Without going into much detail, we witness Jor-El and his wife Lara's plan to send their newborn sun to Earth, where he can be safe, and also be a symbol of hope to his adopted planet. They also express concern with how their child will be received by the people of Earth. Will he be hailed as a savior or feared as an alien?

To keep this review less than ten million words, I'll sum it up to say that we see some of the familiar elements from the past. Lara and Jor-El send their son on his way, thereby incurring the wrath of General Zod, who vows to find the child one day. (Why is he so angry? Well, let's just say that Jor-El has taken something that Zod wants, and leave it at that. You'll just have to go see the film for yourself). Zod and his followers are convicted of treason and imprisoned in the phantom zone, Krypton is destroyed and young Kal-El lands on Earth.

We immediately flash forward to see a grown Clark Kent (Henry Cavill) wandering around as a drifter, working various jobs (crab fisherman, waiter, etc.) and in the meantime rescuing people and then moving on before his secret is discovered. Meanwhile, the story of him growing up is told in a series of flashbacks. I happen to like this very much. As opposed to boring us with a linear hour of Clark's childhood, we are shown it in several clips from the past. A very welcome decision. (As an aside, Kevin Costner and Diane Lane are very effective as Ma and Pa Kent).

Clark/Jor-El's destiny is explored, with the help of his adoptive parents. How does he fit in on Earth, or does he at all? How should he make himself known. Should he hide forever? Everyone knows I hate giving away too much, so all I will say is that these questions are answered along the way, and I found all of it very satisfying.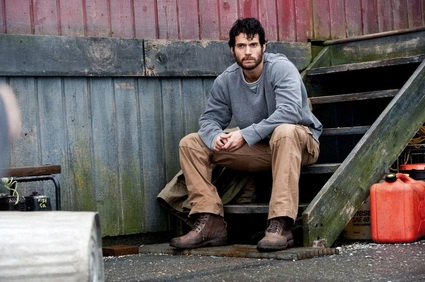 Eventually, intrepid reported Lois Lane (Amy Adams) starts to piece together that this odd drifter is more than he appears. In the meantime, General Zod and his band have escaped the phantom zone, found their way to Earth, and are demanding that Kal-El be turned over to him. In order to save his adopted planet, Kal-El complies. But naturally, that's not the end of it. Zod has another plan in mind, and it's not going to turn out well for the people of Earth. What ensues are some battles of EPIC proportions. Again, I hate giving anything away, so suffice to say that all of this builds to a climax that I am sure some people are going to hate, but one that I understood completely and was satisfied with.

So, by now you're saying, "Shut the hell up and tell us what you thought!" Okay, okay!!!

Overall, I loved this film. It started with the fact that we finally got to see the planet Krypton as a fully realized world. We see that it's a harsh world, as opposed to the utopia presented in other incarnations of Superman. There are reasons for this. The film goes into a lot of extra detail about the destruction of Krypton. It turns out it's not just a case of bad luck. We are also told, both in the beginning of the film and in later flashbacks, more about life on Krypton, what their society was like, and why it was so very important that Kal-El survive. As it turns out, it's not just a case of two parents desperately trying to save their only child.

I was afraid about having "big name" actors playing the roles of Jonathan and Martha Kent, but it turns out that my fears were completely unwarranted. I felt that Kostner had an especially moving turn as Pa Kent. How do you raise a son who is from another planet, and who has almost limitless powers? How do you nurture and guide him? Well, it turns out that Jonathan Kent does an excellent job. There were a few very moving scenes involving Costner, and one scene in particular actually had me choked up. I will not give it away, but you will know it when you see it. (And no, it's not the scene pictured here, although this is a good one too.)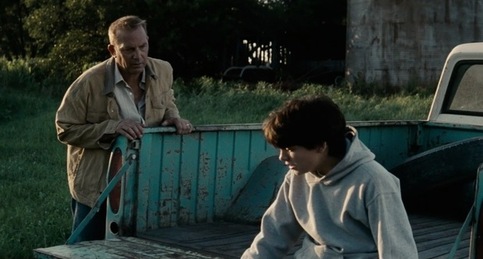 This leads me to address what I seem to be hearing is the biggest complain about the films, which is that it "lacks heart and emotion". What? Did we watch the same film? I thought it possessed a good amount of both. Let's face it folks, this is a film about a superhero with godlike powers. We're bound to see some action and destruction, but the scenes of Clark growing up, and feeling like the alien/outsider that he is, brought a lot of heart to the film. As I said before, Kevin Costner did an excellent job of conveying this as well. How in hell do you raise an alien with superpowers as your own son, and how do you keep that secret? I must say that I simply don't understand how people can say there's no "heart".

It's true that this film does NOT possess many of the lighthearted moments that were present in the Christopher Reeve Superman films. Well guess what? YOU HAVE TO LET IT GO! I am so tired of people comparing this film to the Reeve films. It's not fair and it doesn't to justice to this film or to those films. The Christopher Reeve films (I am only counting Superman and Superman II here because the other two sucked more than a Kirby vacuum cleaner) stand on their own, and my love of "Man of Steel" can and will in no way diminish my love of the Chris Reeve films. But, people need to learn to separate the two. "Man of Steel" was written in a way to bring the idea of Superman into the 21st Century and for a different set of sensibilities.

People are also bitching about Superman's costume. Really? REALLY?? Do we really need to see the Superman of 2013 in light blue spandex and red briefs? Do people realize that the costume has been constantly updated in the comics as well? Not only that, but an explanation is given in the film as to what the costume represents, and what it's function is. I turns out that it's not supposed to be something pretty. It serves an actual purpose. You'll have to see the film to find out what that is. Jeez....I still can't get through my head that people still want the old costume......



What else did I like about it? Well, I really liked General Zod and his followers. Zod had a manic intensity that I really liked, and, even though he has very, very bad plans for the people of Earth, I found that I could actually understand his motivations. Finally, Zod is a fully realized character as opposed to "someone who did some bad things and was punished". He's still doing very bad things, but there is actually a reason behind it, as opposed to just mindless violence and destruction. Question....if you were faced with the destruction of your race, how far would you go?

There are also some characters lifted from the comics and Superman canon. I loved Antje Traue as Faora-Ul, one of my favorite villains from the comics. She comes across as the true psychopath that she is. Jax-Ur, Lor-Em and others are there as well.

The effects are simply astounding. As everyone knows, I am a big fan of "movie magic" and some of the things they pulled off were breathtaking. When Kal-El takes flight for the first time, and is learning how to control it, you truly get a sense of what it is for Superman to fly. It's seamlessly integrated and just amazing. Yes, I'm gushing, but that's how incredible the effects are.

Which leads me to another one of that seems to be one of the biggest complaints about the film. Too much noise and destruction. This is something I tend to agree with. There were times in the third act of the film where it was almost sensory overload, and I couldn't figure out what was happening. They could have toned this down just a notch, and it would still have been fantastic. There was a little too much "Michael Bay" going on for me. I also thought there was a little too much collateral damage if you will. Yes, Superman is trying to save the planet, but it seems like someone with such a strict moral code would have at least tried to control the wanton destruction.

Having said that, there's a case to be made that this is EXACTLY what would happen if you had a bunch of aliens with superpowers battling it out. It ain't gonna be pretty! In fact, I feel that this ties into one of the central themes of the film. How would we react if we knew there were aliens among us? Well, fear of what they might be capable of is certainly warranted. All in all, some of the CGI did get overwhelming at times, and this is a valid complaint.

People are also complaining about the ending, or more specifically, something that Superman does very near the ending of the film. I will not give it away, here, but at the bottom of this review is a MASSIVE spoiler. Anyway, people are outraged by this, and while I can understand it in a way again, I think it made sense on some levels.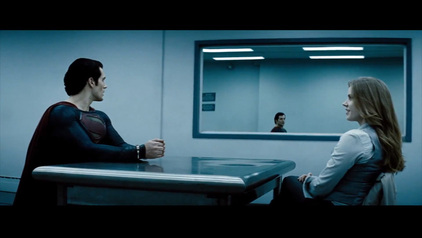 One of the things that I really did not like about the film is the relationship between Superman and Lois Lane. For one thing, there was absolutely no chemistry between them. Amy Adams is a serviceable reporter, and an OK damsel in distress, but as far as emotions between the two, there was more emotion between me and my popcorn. I feel that the whole relationship was rushed too. I guess they are setting it up for the inevitable sequel, but I just didn't buy it at all.

Laurence Fishburne as Perry White was also a waste of time, along with Lois' other co-workers. Perry didn't have the fiery nature of previous incarnations, and at no time do we understand why we are supposed to care about these characters.

I could go on and on finding things to nitpick, but it really would be nitpicking. Overall, I really liked this film. Could there have been improvements? Of course, but then again, there are NO perfect films!

People need to separate the Christopher Reeve films from this one and just stop comparing. People complain that there's nothing new at the movies, but then they get mad when they are not presented with the same thing they've already seen before. I just don't understand that. If they had simply remade Superman with similar costumes, characters, etc., people would have said, "Oh great, another shitty remake."

You have to go into this film with an open mind, and put Chris Reeve out of it. Just have fun.

Oh, and FYI....spoiler section after the logo.


Horror Nerd's Rating: 4 of 5 Broken Eyeglasses!

---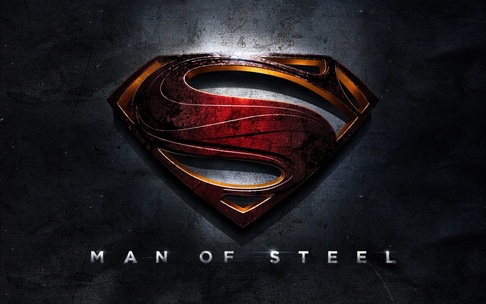 SPOILER SECTION - PROCEED AT YOUR OWN RISK!




Much has been made about Superman's decision to kill General Zod at the end. People are crying because supposedly Superman has a strict moral code against killing. Well, first of all, the filmmakers have every right to take some poetic license with the material. Second, General Zod made it very clear that he was never, ever going to stop trying to claim the Earth for his own, and to bring about the second coming of Krypton, thereby killing all humans in the process. Lastly, Zod was about incinerate an entire family. What, exactly, should Superman have done?

Zod might be the villain, but he has a sense of purpose. If you were faced with the extinction of your race, what would you do? How far would you go? In killing Zod, Superman feels all of the pain and rage that Zod felt, and I personally liked that moment of internal conflict.

One of the central problems with Superman as a character has always been....how can we relate to someone with god-like powers and an unimpeachable moral code? With no flaws, what can defeat him? How can he be "broken"? By making Superman choose to do what he did, the writers made him just as fragile as the rest of us are, and I think it was brilliant.