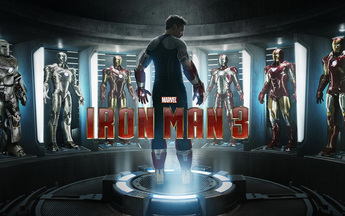 "Iron Man 3", 2013, Dir. by Shane Black
OK, this review is DEFINITELY going to contain spoilers, but I promise to put them at the end, so you can decide whether or not you want to see them. I normally never have major spoilers in my reviews, but as much as I liked this film, there were a few things that drove me crazy, and I have NO CHOICE but to mention them. Unfortunately, these things will give away important plot points.

Iron Man 3 centers on Tony Stark, and the time period following the events of "The Avengers". Our hero is having problems concentrating, sleeping, and deciding where is life it going. His relationship with Pepper Pots is on the rocks because of this. Along comes an international terrorist known as "The Mandarin" who is wreaking havoc across the globe. When one of his attacks hits a little close to home, Tony Stark calls him out, and dares him to come after him, and holy shit, does The Mandarin take him up on his offer. What follows is a game of cat and mouse, where Tony finds himself without all of the tools and gadgetry normally at his disposal, and he must rely on his wits to survive and triumph. All of this leads to a spectacular climax, causing Tony Stark to question who he really is? Is he Tony Stark, or is he Iron Man, or both? Does the suit make the man, or does the man make the suit?

There is also a brief prologue which shows Tony in his younger, douchier days, which serves as a (somewhat ham-handed) setup for an additional plotline in the film.
OK, so, I know what your asking. "Well Horror Nerd, what did you think????"

Overall, I liked this film a lot. It was EXACTLY what the third film in a trilogy should be. Usually, "Part 3" is the weakest part of a trilogy, but not in this case.

Let's get the basics out of the way. I felt the acting was top notch. Then again, I always felt that Robert Downey Jr. was great in the role because he made a great Tony Stark. You can put anyone in a costume, but it's much more important to have someone who can accurately portray the hero's alter-ego, and Downey does just that. The supporting characters fill out their roles nicely, and Guy Pearce is excellent in his role as a scientist who winds up at odds with Tony Stark/Iron Man.

The effects are unbelievable, and there are a few spectacular set pieces. The scene where Tony's house is destroyed by The Mandarin (come on, no spoiler here, they showed it in every goddamn TV spot), is stunning, along with another amazing scene where Iron Man rescues a dozen people who are tossed out of Air Force One during an explosion. The climactic action set piece is equally stunning. To everyone complaining that there was not enough action, I want to say, "What the f**k movie were you watching?" The action scenes came exactly when they were needed.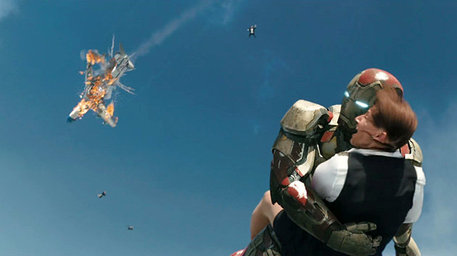 The script bears all the hallmarks of Shane Black, and it's very smart and witty. The majority of the film has Tony dealing with his own personality, and his place in the world (now that "gods" have appeared on Earth in the form of Thor and Loki). He comes to realize that he can not necessarily be the center of his (or anyone else's) universe any more.

There are some very cool scenes between Tony Stark and a lonely kid that he meets who becomes an unexpected ally, and there are some scenes where Guy Pearce seems to be having a ball chewing up scenery. I loved all of it. Don Cheadle and Gwenyth Paltrow have A LOT more to do in this film, and it's refreshing, especially Cheadle, who has now been rechristened Iron Patriot, but does his best work once he's outside of the suit.

The rest of the plot is based on the popular "Extremis" storyline by Warren Ellis which provides Tony and Iron Man with a set of opponents in the form of The Mandarin, Aldrich Killian (Advanced Idea Mechanics) and an army of genetically engineered soldiers. I liked the storyline a great deal, but there are some plot points that I didn't particularly care for, and these will be discussed in the SPOILER ZONE BELOW.

Overall, I thought that Shane Black has brought us a smart, entertaining film, with the expected Tony Stark hubris sprinkled liberally throughout, and the trademark snarky humor that has made the franchise so successful. The film ties up the Tony Stark/Iron Mark trilogy quite nicely, which preparing us for the future, namely "Avengers 2". Where will the Iron Man franchise go from here? Who could say? But, even if they never made another standalone Iron Man film (which they will), I would be satisfied with the way this one ended.

HORROR NERD RATING: 4 of 5 BROKEN EYEGLASSES!
SPOILER ZONE!!!!
You have been warned!! If you do NOT want to know about certain critical plot points of this film, DO NOT read any further. I don't want to hear your whining later on!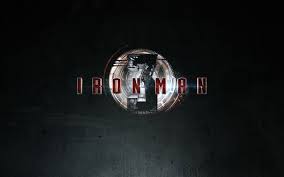 As much as I liked "Iron Man 3", there were a few things that drove me crazy.

#1: Who the fuck thought it was a good idea to take The Mandarin, Iron Man's arch nemesis, and turn him into a simpering actor? Shit, we all knew that the character was going to be grounded in reality, as in he would not have the ten rings of power, but seriously, THIS is the twist that they came up with? Now, I will admit that I didn't see it coming, but really.....REALLY???? This one thing almost killed the movie for me. The Mandarin is one of the great comic book villains of all time, and this is the best they could come up with? What a waste of Ben Kingsley's talent. I will admit that he was funny once it was revealed that he was nothing more than an actor, but still. Part of my comic book nerd heart died a little when this was revealed.

#2: Does EVERYONE have a goddamn Iron Man suit? It seems like we've had three movies where everyone is trying to get their hands on the Iron Man suit and it also seems like they mostly succeed. Hell, at one point Pepper Pots is in a goddamn Iron Man suit. Granted it's by accident, but still. What the flying fuck? What's special about having an amazing suit of armor if everyone has one?

#3: One of the most spectacular action sequences in the entire film is when Iron Man rescues about a dozen people who are thrown from Air Force One when it explodes. It's an amazing scene and it's pure movie magic. Then, we find out that Tony was controlling the suit REMOTELY. Fucking REMOTELY!!! Now, you might be saying, "Horror Nerd, you're being too goddamn picky. What's the big deal. It's cool that he can remote control the suit! NO IT ISN'T. The whole point of Iron Man is that Tony Stark is a terribly flawed human being, but once inside the suit, he can be something more. Well, not that doesn't even matter any more. He can sit at home and save the world with an X-Box controller.

There are a few other minor things that made me nuts, but every movie has stuff like that. I just don't understand the decision making sometimes.

It's still a great movie, so go and see it!!!!