Family Demons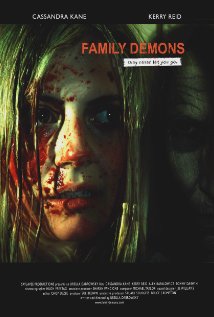 I was not sure what to except going into this movie. The writer/director and I had been on-line friends for a while, and she had described the basic plot, but as we all know, indie horror films can be hit or miss.

I must say, this is a worthy first attempt by writer/director Ursula Dabrowsky, who hails from Adelaide, Australia.

The story revolves around Billie, a teenage girl who is putting up with an abusive, alcoholic mother who would rather spend her money (it's implied that she's a prostitute) on booze instead of food. When her mother brings home one of her grimy "boyfriends", who then attempts to hit on Billie, she is forced to sleep on the bathroom floor, just to get away. In a few images here and there, we see that the mother is haunted by visions of what we assume to be her mother.

I don't want to give anything else away, so let's just say that this abusive cycle continues until Billie is finally pushed over the edge and the the real horror begins. The final shots of the movie are very chilling, and all I will say is that there are no happy endings here.

As with most first directorial efforts, the film is not perfect and it has it's flaws. The characters are a bit stereotypical, especially the alcoholic mother, the grimy "john" and young man who yearns to take Billie away from it all. On the plus side, the film has a very gritty, realistic feel about it, which made it seem like the events could be happening in the house next door to yours. Overall, I enjoyed the film and I would definitely say it is worth a watch. Ursula Dabrowsky is a filmmaker that the Horror Nerd will be paying attention to. Her follow up effort, "Inner Demon", promises to continue the story, but on a bigger budget.

Unfortunately, this film can be a little hard to find. I was lucky enough to find it in my local Redbox, which was a very pleasant surprise. If you can find it, you should give "Family Demons" a viewing.

The Horror Nerd's Rating: 3 of 5 broken eyeglasses!

---