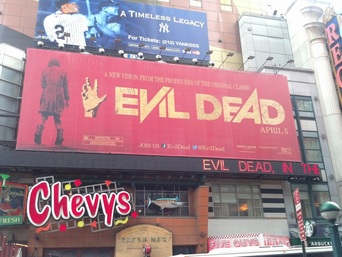 Evil Dead (2013), Dir. by Fede Alvarez

Like most remakes, I went into this one with a degree of trepidation. While I am not as militant about remakes as some people, I still think most of them are a waste of time and unnecessary. However, "Evil Dead" has Sam Raimi and Bruce Campbell as producers, so I took that as a good sign.

Let's briefly go over the plot, shall well? Most fans are familiar with the original, and the remake follows the plot of the original more or less. A group of five friends is holed up in a remote cabin in the woods. This version has an addiction/intervention angle which makes it a little more current. They come across some nastiness in the cabin and, in so doing, discover a strange book which seems to be bound in human flesh. Naturally, one of the group simply can't help himself, and thinks that it's a good idea not only to open a book that is sealed shut with barbed wire, but also to try and read aloud from it. Demons living in the woods are unleashed, and much violence, gore, mutilation and mayhem ensue, and our unlucky victims become possessed and succumb in gruesome ways until only one is left to fight for survival.

That's it folks. Like I said, it basically follows the plot of the first one in general terms.

So, what did The Horror Nerd think?????

Well, overall, I definitely liked this movie. Setting aside the remake aspect for one second, it basically had the elements that I like. A creepy atmosphere, and lots of blood, gore and brutality.

First, let me just say that I do not revere the original film the way that some people do. Yes, it's considered a horror classic, but then again, what makes a film a "classic"? "Plan 9 From Outer Space" and "Attack of the Killer Tomatoes" are classics, but they are not good films. "The Evil Dead" has reached iconic/cult status, but I still maintain the Part 2 was superior, and people seem to forget that the character of Ash did not really become "Ash" until Part 2. The original is a mediocre film (sorry). The effects were cut rate even by early 1908's standards and the acting (other than perhaps Bruce Campbell) is average. The best thing about the film, and what really set it apart and gave it "iconic" status was Sam Raimi's wit and ingenuity. The camera angles and crazy zoom shots added an energy to the film that has rarely been duplicated. Let's be honest with ourselves for just one second and admit that maybe we need to stop worshiping "The Evil Dead" just a tad.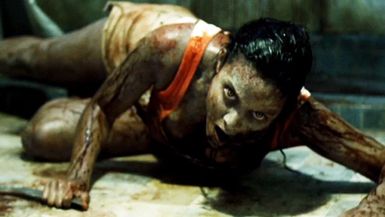 The remake doesn't mess with the bare bones formula of the original too much, and that's a good thing. There are a lot of winks and nods to the original along with way, which was very cool. I like the fact that other than the main character of Mia, portrayed by Jane Levy (Suburgatory), there are no real familiar faces in the cast, so the movie is not weighed down by having the obligatory rapper or reality TV star. These are pretty much people lining up to be slaughtered anyway, so it doesn't really matter that they are basically interchangeable.

I loved the gore effects in this movie. Finally, FINALLY someone realized that using practical effects and makeup for the majority of your film are the way to go. Severed limbs, split tongues, slicings, dicings, and gougings are the order of the day, and the red stuff flows freely. The film really does deliver on the gore and the scenes of violence really spoke to me as a horror fan. Everyone complains that horror films today hold back too much on the violence and grue, and this one does not.

Now, people have been bitching a lot about this movie and again, I think it's because we have a reverence for the original that is not entirely deserved. I also think that people are getting too hung up on minor things. It's a horror film people. Not everything has to make sense. Stop counting souls, and stop trying to figure out why "such and such" a character would do "such and such" a thing, or why a person got possessed or didn't get possessed. We're watching a film where a woman gets raped by a tree demon, and then causes other people to become possessed, which leads them to engage in horrifying acts of self mutilation, and we're going to set there and psychoanalyze a film? Do people go home, sit in the corner, and gnash their teeth wondering how Michael Myers can survive being shot so many times? THIS Horror Nerd thinks that some people need to stop trying to prove how smart and clever they are and just enjoy going to the movies.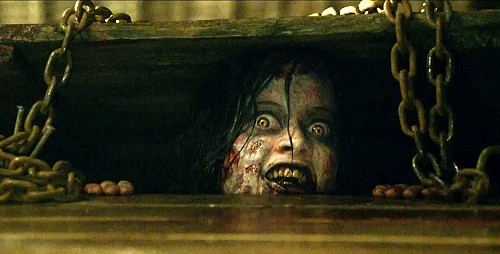 I have to believe that if this movie came out and was called anything other than "Evil Dead", then there's a segment of people who would enjoy it more. Then again, they would complain that it ripped off "The Evil Dead", so I guess with some people there's no winning.

This is a good movie people. It has all the violence and brutality that we are looking for, and I think it does a very serviceable job paying homage to the original, while still going in it's own direction. We can debate all day the merits of remakes, but we need to accept the fact that they are not going anywhere, so when a decent one comes along, we might as well enjoy it. What would you rather see, this, or another entry in the "Saw" or "Hostel" series? As I have said before, the main problem I have with remakes is that for every film that gets remade for no reason, there's some original screenplay sitting somewhere that it not being made. But that's a topic for another day!!

GO AND SEE THIS FILM! It is perfect, of course not. In fact, there were one or two things that drove me absolutely batty, especially some of the decisions and rationalizations made by the brother of the main character, Mia. That boy needed a big time kick in the ass! Just stop overanalyzing everything and stop looking for reasons to hate the film. I just shake my head at how many people go into a film like this WANTING to hate it, yet coughing up theater money to go see it. If you feel that way about remakes, then wait for Netflix or Redbox. What can I tell you?

Horror Nerd's Rating; 4 of 5 Broken Eyeglasses!