"Day 9" (Short Film) - 2013, Dir. Thomas Ryan

In the interest of full disclosure, I need to point out that Tom Ryan, writer and director of "Day 9", is a personal friend of The Horror Nerd. Having said that, I would like to think that this does not affect my objectivity.

So, what would you do if you found yourself in the middle of the zombie apocalypse? Seems this is a common theme in films and TV these days, and this is what is explored in "Day 9", a new horror short from local New Jersey filmmaker Thomas Ryan.

Our story begins with Tom and is wife Mel getting ready to enjoy a relaxing weekend together, having dropped the kids off with the grandparents. Things are pretty low key, until they begin to see disturbing news reports about a bizarre "infection" that seems to be reanimating the dead.

Through a series of jumps between earlier days of the outbreak and the titular "Day 9", we learn how the events have unfolded, and how Tom, Mel, and the other locals have reacted to it, resulting in a zombie survival tale, leading up to a climax with a very surprising, and satisfying, emotional punch. I will refrain from giving anything else away. Every knows that's not The Horror Nerd's style! No spoilers here. You will just have to watch.


---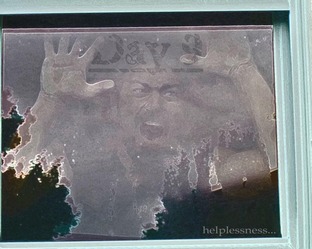 ---
What we have with "Day 9" is a very good zombie survival tale. In some ways, you might sit back and think, "Well, here we go again. Been there, done that." However, you MUST give this one a chance. It's very clear that writer/director Thomas Ryan and producer Rodrigo Bustamante were working with a very limited budget, as most indie filmmakers are, but they really do make the most of it. The acting and direction are surprisingly solid, and I very much got the sense that these are just regular folks who are caught up in something they don't understand and are just trying to get through it. The best part of this film is the ending. As I mentioned in the synopsis, it packs an emotional punch that I did NOT expect, and that definitely sets it apart from other films of this type. The film also contains an element of realism that most zombie films do not. Yes, yes, I realize it's a zombie film, but by keeping it "basic" and grounded, the filmmakers give it an air of believability. The suburban setting makes you look around and go, "Holy shit! What would I do??"
The other thing that I liked a lot was the inclusion of the news reports. I know comparing a local indie short film to a horror classic like "Night of the Living Dead" is dangerous, and I don't mean to suggest they are on the same level, but the element of the news reports did harken back to that film, and I did like it. I also liked the creative use of multiple camera angles, as well as the non-linear storytelling.
The soundtrack is provided by Tom's band, Vlad the Inhaler, and adds a great element to the story. The makeup is solid, if a little generic at times, but towards the end there are some excellent zombie makeup effects. The one thing that I didn't particularly care for was the use of CGI for some of the blood effects. I completely understand budget and time restrictions, but at heart, I am a fan of practical effects, especially when it comes to blood effects.
Overall, "Day 9" is a solid effort from an up and coming local New Jersey filmmaker that deserves our attention. Hopefully, it's an indicator of things to come from Tom Ryan and company. Please check out the IMDB page for the film by clicking
HERE.
Also follow
Theatre of Terror
for news about "Day 9" and upcoming projects.
Horror Nerd's Rating: 3 1/2 broken eyeglasses!