"Baggage" (short film) 2013 - Dir. by Jeremiah Kipp, starring Rob Dimension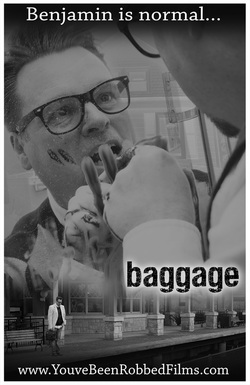 We go about our daily routine, observing people around us. We work with the same people every day, and we interact with many of the same people day in, and day out, but how well do we really know any of them? What are they like when they go home? What deep, dark secrets do they hold? Well, in "Baggage", the second short film from filmmaker/entertainer Rob Dimension, we get a glimpse into the life of Benjamin, who appears normal, but is, in reality, far from it.

In his first film making effort, "No Clowning Around", Rob brought us a memorable character in Mumbles the Clown. In "Baggage" he brings us an equally memorable character in Benjamin.

"Benjamin is normal...." is the tagline for the film and, outwardly, Benjamin seems quite normal. He gets up every day, gets ready for work, says goodbye to his girlfriend, and heads out into the world. He has an office job, interacts with his coworkers, and even heads to a bar after work for a cold one, just like many of us do every single day. But.....lurking underneath all of that "normalcy" is.......what? Well, you're just going to have to see it to find out! The Horror Nerd does NOT believe in spoilers, or in narrating the entire film.
---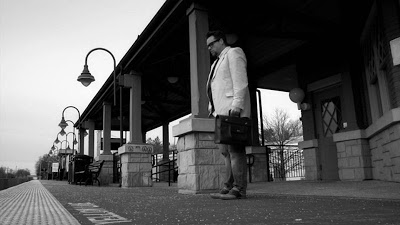 Rob Dimension turns in another fantastic performance as Benjamin. In the interest of full disclosure, I feel that I must tell you, my faithful readers, that over the last few years, Rob as become a good friend of mine. I have followed all of this work closely, and I am glad I did. I would like to think that this would not cloud by judgment, and Rob knows that I am always very honest in my reviews and opinions.

I have been nothing but impressed by Rob's acting abilities thus far. The mark of a good actor (to me anyway), is that, even though it's their face up on the screen, you no longer feel like you're watching them, but that you are actually watching the character they are playing. That's exactly how I felt with "Baggage". It's not Rob up there, it's Benjamin. There's a lot of subtlety to the performance, and there's always something smoldering underneath. While watching the film, which is only 15 minutes long, the tension builds, and you just get the feeling that something very, very bad is going to happen, and Rob does a great job of conveying this "slow burn.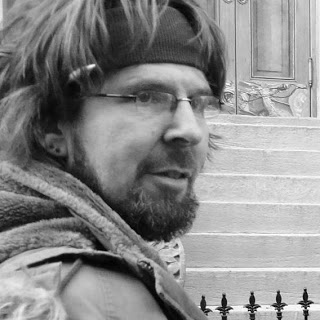 For "Baggage", Dimension turns the directorial reins over to Jeremiah Kipp, the very talented director behind "Crestfallen" and "The Days God Slept". Kipp shoots this film brilliantly, and the decision to film in glorious black and white brings another element to the film, one which I was not expecting. Now, I can't even imagine the film being shot in color. It really brought a "film noir" feeling to it. I know that's a bit over on overused term, but not in this case.
The writing is also very minimal and crisp. What little dialogue and spoken words in the film are just enough. The visuals and score are what convey the necessary messages in "Baggage".
I could ramble on and on about how much I loved this film, but just like the running time of "Baggage", I feel that in this case, less is more. All I will say is that I highly recommend this film. Rob Dimension truly is becoming a force to be reckoned with in independent film making, and you are doing yourself a disservice if you ignore him.
If "Baggage" is playing at a film festival near you, definitely check it out. Even better, go to
www.youvebeenrobbedfilms.com
and order a copy. Help support Rob Dimension and indie films!!
Horror Nerd's Rating: 4 1/2 out of 5 Broken Eyeglasses!!!
---