The Amazing Spider Man 2 (2014)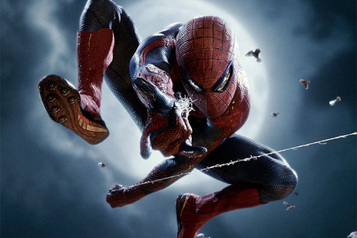 Typically, in any franchise, the second film is crucial. Will it be as good as the first one? Will it be better? Or will it suffer some a sophomore slump? With "The Amazing Spider Man 2", directed by Marc Webb, the answer is that it exceeds the previous film and, in The Horror Nerd's mind, becomes one of the better comic/superhero movies that the Marvel pantheon has yet delivered. Many were skeptical when the Spiderman franchise was rebooted a mere five years after the disappointing "Spider Man 3", but this film fan is glad that they did.

Andrew Garfield is back as Peter Parker/Spidey, and for my money, I like him better than mopey Tobey Maguire. Now don't get me wrong, I liked Maguire in the original trilogy, but there was really nothing to compare to. Garfield gives a much better sense of an awkward high school student trying to make his way in the world, oh, and fight crime at the same time. Emma Stone (aka, my future girlfriend), is back as plucky Gwen Stacy, Peter's love interest and Sally Field returns as Aunt May. Rounding out the main cast are Jamie Foxx as Max Dillon/Electro, and Dane DeHaan as Harry Osborn/Green Goblin. Paul Giamatti, one of my favorite actors, is a bit unrecognizable early on as a Russian mobster, and makes an appearance at the end of the film as Rhino. Colm Feore, another excellent character actor has a great turn as an Oscorp honcho who messes with our villains at the wrong time, and Chris Cooper makes a showing as the dying Norman Osborn.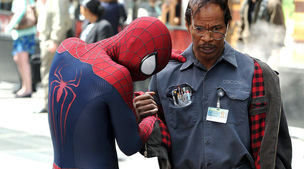 Our story begins with some breathtaking scenes of Spiderman web slinging his way through the city. Clearly, Peter Parker is having a great time being Spiderman. We're treated to some great visuals and I really had a sense of what it would feel like to swing through a city. Along the way, Spidey rescues nebbish electrical engineer/Oscorp employee Max Dillon (Jamie Foxx) and, in Dillon's mind, they make a connection. Peter is also struggling in his relationship with Gewn Stacy. He made a promise to her father in the first film to stay away from her, because to be with her would put her in danger, and this weighs heavily on his mind.

Well, as is typical in comic book villain origin stories, an unfortunate corporate mishap results in the transformation of the hapless Max Dillion into the powerful villain Electro.

Much as been made of this transformation, and of how Dillion/Electo comes to despise Spiderman, but I thought the way it was handled in the film made perfect sense. I will not go into any further details about the evolution of Electro other than to say that I throughly enjoyed it and I loved Jamie Foxx's turn as the character. The body effects and the electrical effects produced by Electro are astonishing. Someone who loves "movie magic" as much as I do will be duly impressed.
---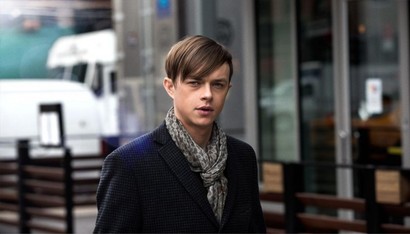 At the same time, Peter Parker's boyhood pal Harry Osborn returns from boarding school to confront his dying father, Norman. Let's just say that the father/son reunion does not go well. Harry enjoys reconnecting with his old friend Peter but, he also wants to find Spiderman, for a very specific reason, and he believes that Peter, since he is the one who takes pictures of Spiderman, can find him.

In the film's second act, we see further strain put on the Gwen Stacy/Peter Parker love affair, and the complex problem created by Peter's promise, and Gwen's determination to make her own choices. All of this, along with the continued evolution of Electo and the deterioration of Harry's mental health, leads us to the film's action packed third act. Oh, and along the way we get to see some very cool things in the Oscorp vaults, including some things related to a certain SIX villains.........I got "nerd giddy" when I saw that.

The climactic battle between Spiderman and Electro is breathtaking. I sat in the theater wondering, "How in the hell did they DO that?" Then, just when you thought that you could take a breather, here comes the Green Goblin! Look, we all know that Harry becomes the Goblin, so I am not giving anything away by telling you that but, what I will leave out is how the transformation takes place, other than to say that it felt a little bit rushed, almost as if the writers said, "Oh crap! We're in the third act! We need to get this in here!"

What happens next is very much spoiler territory, so I will leave that for the Spoiler Alert section at the end of this review.

The very end of the film has Spidey back in action, in a scene that left me very disappointed. I couldn't believe that an otherwise excellent film ended the way it did. But, it did clearly pave the way for the inevitable "Amazing Spider Man 3".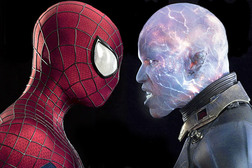 So, what did I think? Overall, I thought the film was excellent, and is far superior to any of the films in the previous Spiderman trilogy, and this is coming from someone who thought Spider Man 2 was one of the best superhero films of all time. I think Andrew Garfield makes an excellent Peter Parker. Let's face it, you can put anyone in the suit, but you gotta have a good Peter Parker! I like Garfield's mannerisms and I like the awkwardness he still displays when he is not Spiderman.

Some people say that Spiderman cracks too many jokes, but they seem to forget that the comic character was often written this way, and Spidey would taunt his foes with wisecrakcs and one-liners, so I didn't mind this as all. Another common complaint from people is that there's "too much" of the love story between Peter and Gwen. STOP IT! Just STOP IT! I am so tired of people with short attention spans losing interest in something if there's not non-stop action every second. The love affair between Peter/Spidey and Gwen Stacy is part of iconic comic lore, and is CRUCIAL to the telling of Peter Parker's story. I loved the fact that they pulled a lot of it direct from the comics, right down to several of Gwen's outfits, especially a certain blue coat.

Jamie Foxx is excellent as Electro. Again, people are saying that his "pre-villain" character is too nerdy and unbelievable. Are you serious? Have you ever read a comic book? Quite often the characters are over the top and this is very much a comic book movie, so get over it.

James DeHaan makes a great Harry Osborn and I liked him better than James Franco. Franco has such potential in my mind, but he sleepwalks though every role, and DeHaan has much more intensity. Again, I thought the Green Goblin transformation was rushed, and we didn't get enough of that development and, just when we did, it came and went too quickly. We'll see what happens in the next film.

Rhino....oh Rhino! I thought it was cool that they decided to go with a mechanical/military type suit, but this was waaaayyyyy to rushed, and there was NO NEED to have a third villain. The way Rhino was introduced sucked, and the entire scene he was involved in at the end of the film sucked. They could have trimmed the entire thing and I would have been OK with it.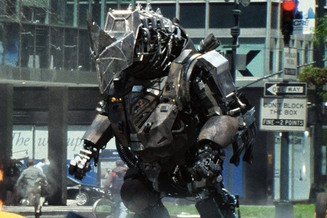 Overall, I thought this was one of the best superhero/comic films I have seen. In The Horror Nerd's humble opinion, fans have a bad habit of building a carefully constructed idea in their minds of what these characters should be, and how the story should go, and what the characters should do, and the minute ANYTHING deviates from that, they decide the whole thing sucks and they want to shit all over it. DON'T GIVE IN TO THE HATE! This is a good movie and you should see it! Like I said, I could have done without the last ten minutes, but any film is allowed to have a few minutes of suckage in it. GO SEE IT!!

Horror Nerd's Rating: 4 out of 5 Broken Eyeglasses!
---
SPOILER SECTION
The following section contains MASSIVE spoilers. If you have not seen the film, and you don't want it ruined, and yet you still scroll down and continue reading, then you are a complete tool, and I don't want to hear you complaining later!!

YOU HAVE BEEN WARNED!!!





If you are a Spider Man fan, or even a comic book fan in general, then you know that Gwen Stacy died in the comics over 40 years ago. It's an iconic turn in the comics, and in the story of Spider Man. It had been rumored that it would happen in "Amazing Spider Man 2" but no one knew for sure. Even though I knew it could be coming, when it happened on screen it was like a punch in the stomach. No one in the theater made a sound. I am pretty sure that most of the audience was stunned, given that they probably were not familiar with the comics. It's part of the Spider Man mythology, and it's a big part of comic lore, and while it was very impactful, I am not sure it was the right time to do it in this franchise.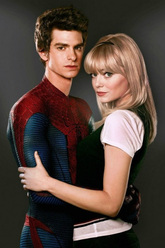 There is a phrase "woman in the refrigerator" that was coined by Gail Simone in 1999, and it refers to a common trope in comics (and in a lot of films) where harms comes to the female companions/family members of the hero solely for the purpose of making the hero feel bad or to want to seek revenge. The phrase comes from a Green Lantern comic where the Lantern's (well, his "normal counterpart" Kyle Rayner's) girlfriend is murdered and stuffed in a refrigerator. These days, it is now extremely common for this to happen, although it seems like rape is currently the common "bad thing" that happens.

I feel that in this film, the writers and director took a very popular character, who was portrayed in a very engaging way by Emma Stone, and killed her just so Peter Parker can be sad and realize (again), that anyone who gets close to him will always be in mortal danger.

Yes, yes, yes....I realize that Gwen Stacy dies in the comics, but where is it written that everything in the films has to happen the way it does in the comics? Oh, I know that the fanboys shit themselves into their diapers and cry to their mommies whenever something deviates in a way they don't like, but f**k them. In ASM2, they were all set to ship Gwen off to Oxford, and this could have been a way to get her out of the picture, allow Peter to see that his indecision is pushing her away, and both leave room for her to come back AND to not die violently.

Let's also keep in mind the fact that Gwen helped Spidey save the day by helping to defeat Electro, only to be murdered minutes later. It turns out that the most important thing about Gwen Stacy is how her death affects the male hero and how he changes or grows as a result of it. Oh, and it also helped establish the Green Goblin as the main villain in the next film.

I get that the filmmakers wanted to take an iconic, well-known event from the Spider Man comics and translate it to the screen, but for my money, I think they should have taken a different path, and avoided killing a likeable, resourceful, popular character just so yet another make hero can evolve because of it.