American Mary - 2012, Directed by Jen and Sylvia Soska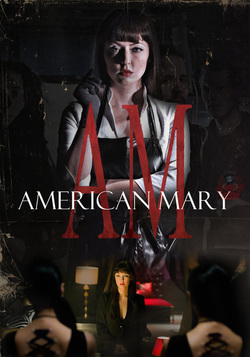 Well, well, well. The Soska sisters have made a quantum leap from their first feature "Dead Hooker in a Trunk", which was a great first effort in and of itself. With "American Mary", they have set a new standard for themselves.

The story centers around Mary Mason, a medical student studying to be a surgeon. She's a typical med school student, with mounting debt and a deep admiration (bordering on idolization) of the surgeons who are her mentors. She also possesses a wide-eyed innocence about the world around her..

In order to raise much needed cash, Mary answers an erotic ad for "massage services" in a seedy club. She witnesses a horrific scene, but uses her medical skill to make a large amount of money. The entire event is very traumatic for her, but it opens her eyes to an underworld she was not previously aware of. In addition, due to a careless move on her part, Mary is introduced to the world of body modification and underground surgery, and again, the allure of quick cash causes her to begin participating in this world.

As she gets pulled further into the world of the wealthy and powerful surgeon community, a violent act committed against her causes her mind to snap. Mary now descends fully into a world of violence, depravity, and revenge. She becomes someone both respected and feared in the body modification community around the world, ultimately leading to a most unsettling climax.

With their second feature, the Soska Sisters have taken their game to a whole new level. "American Mary" is a slick, well produced, atmospheric horror-thriller. It's amazing what people can do with a decent budget and with good acting. As Mary, Katharine Isabelle (Ginger Snaps) gives a great performances. Her transformation from naive' medical student to underground surgeon/"revenge artist" is truly chilling. The movie also offers a glimpse into the world of extreme body modification which, for some, can be as unnerving as any violence or gore could ever be. Speaking of which, while the film does have it's fair share of violence and gore, this is NOT a "torture porn" film by ANY stretch. The violence and blood are used to advance the story, and the viewer is given just enough of a gross-out factor to keep them squirming.

The supporting cast is equally impressive, and the cast of characters making up the body mod community are both fascinating and disturbing at the same time. Which brings me to my next point about the film. What was impressive to me is that this film is as much a psychological examination as it is a horror film. In fact, I would classify it as a psychological thriller with horrific elements. It forces us to ask, "To what lengths would someone manipulate their body in order to express themselves?" It also forces each viewer to come to terms with how they feel about that. Speaking for myself, while I respect everyone's personal choices, I myself do not "get it". I simply will never understand a person's determination to distort their body to such an extent as to be almost unrecognizable. Again, let me make myself clear, to each his own, and I would never shy away from or shun someone because of their body choices, but that doesn't mean I have to understand it or agree with it. This Horror Nerd is nothing if not honest.

From a filmmaking standpoint, Jen and Sylvia Soska have really shown their growth as artists from their first film to this one. I was very impressed with the writing and direction and they have proven that with a decent budget and quality acting that they are capable of making a film on par (or better) than anything Hollywood can churn out. From a technical standpoint, I loved the lighting and the camera angles. We truly feel that we are being pulled into a strange, underground world that we all suspect is there, but most never get to see. I also feel that the film had exactly the right amount of gore. Any more and it would have come across as just another gore film.

Does the film have it's flaws? Of course it does. The second half does seem to drag a times, and the editing could have been a little tighter. It also seems that during the third act, the writing "drifted" a little, and the ending left me a little unsatisfied in the sense that I felt that it was leading up to something much more. There is also one "body mod" character that started to grate on my nerves after a while. Also, the Soska twins wrote themselves an extended cameo, which had TONS of potential, but ultimately left me a bit unsatisfied. I must admit though, it was fun to watch them chew up the scenery!

Overall, I was extremely pleased with this film. I have been, and always will be, and fan of the Soska's. They have brought us a sleek, sexy (yet horrific) thriller which is a very welcome change in a world of Hollywood "crap" horror. Hopefully, we'll see more of this type of film in it's wake. True horror fans should see it immediately.

Horror Nerd's Rating: 4 of 5 Broken Eyeglasses!





---