Abraham Lincoln Vampire Hunter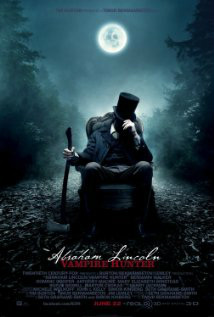 I had no expectations going into this film, other than that I was aware of the book, and what the subject matter was. All I knew was that I was looking forward to seeing it, if for no other reason than I was looking for something different in the ocean of crappy films that pad out the summer, between "tentpole"films.

Well, well, well, was I happily surprised with this film! I enjoyed every second of it, and in reading some other reviews and viewer comments on IMDB, I sometimes honestly don't know what people want out of a movie.

For those of you not familiar with the plot, it revolves around the idea that vampires have lived among us for centuries, with certain humans selected to fight them along the way. Well, now the vampires are here in the USA, and are longing for a nation of their own. What better way to do it than through a divisive civil war? Along the way we learn that, early in life, a young Abraham Lincoln runs afoul of the neck-biters, and vows revenge against one of them. Flash forward a few years, and Mr. Lincoln is recruited by another vampire hunter, trained in the art of hand-to-hand combat and vampire slaying, and is given assignments to kill selected vampires who have worked their way into society. Despite warnings that he can never make "attachments", he falls in love anyway, and has a son, and we know that this cannot possibly end well. As the years go on, Lincoln becomes President, and the vampire threat reaches a head during the Civil War. I will not give anything away, but suffice to say that the vampires have sided with the South, and we know how the war turns out. What's interesting, is what we didn't know about how the war really ended. *wink*.

Personally, I loved the idea of integrating real historical events with the vampire mythology. When people tell me that they thought that the plot was "ridiculous", I just sort of stare at them blankly until they realize what a dopey statement that is. Holy shit on a shingle! Vampires didn't really start the Civil War? What's next, Peter Pan can't really fly? I love the fact that the movie plays it straight as opposed to being entirely tongue in cheek. We're not let in on the joke because there IS NO JOKE.

The fight scenes and gore are great, and there's an awesome action set piece that takes place amongst a stampede of horses which was well executed, if a little heavy on the CGI. The acting was very well done, considering the subject matter, and Benjamin Walker was a very believable Lincoln. The are some excellent gore scenes as well.

People need to lighten up. I found this film to be a very welcome addition in an ocean of crappy horror sequels and remakes, and I recommend it.

The Horror Nerd's Rating: 4 of 5 broken eyeglasses!

---