"Pan", 2015 - Dir. by Joe Wright
---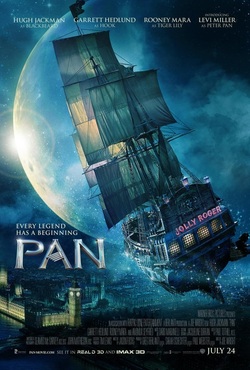 Believe it or not, The Horror Nerd is a fan of "fairy tale" stories! I love the familiar mythologies, and I like the fact that most of them can be very, very dark at times.

"Peter Pan" is one of my favorites, and I am a big fan of the original novel. When I heard that Joe Wright was going to direct a prequel of sorts, I was excited about it. I was curious to see what the fimmakers would do with Peter's origin story, along with the origin of Captain Hook and the other characters we're all familiar with from the story.

Well, I am sad to say that, even though the film had a few somewhat "cool" moments, overall, they missed the mark, and "Pan" devolved into a rather ordinary "chosen one" story.

Our story begins with Peter being left on the doorstep of an orphanage in pre-World War II London. The orphanage itself is practically lifted right out of "Oliver Twist", right down to the gruel and the wicked Headmistress. (Honestly, they couldn't have made her into more of a caricature if they tried). Eventually, the orphans are caught up in World War II, and each night, Peter and his best friend notice that several beds are empty. One night, after discovering that the Headmistress is hiding food rations (and other things), Peter and his buddy awake to find the children being lifted from their beds my mysterious figures on ropes, and Peter finds himself on a flying pirate ship, in the middle of a German bombing raid.

Admittedly, the visuals in the movie a pretty cool, and seeing a pirate ship fly over London, dodging German fighters, was a lot of fun. Eventually, our hero and a shipload of other children find themselves flying over a secret island and , get ready for it, thousands of children singing "Smells Like Teen Spirit" by Nirvana. Yes, you read that right. This is where things begins to go wrong.....
---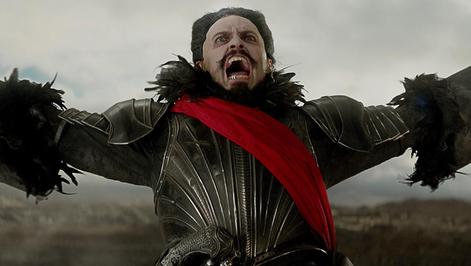 Here is where we meet the evil Blackbeard.....gloriously overacted by Hugh Jackman. I liked the costume, and I liked the first few minutes of the performance, and yes, it's an exaggerated character that lends itself to overacting, but it grew tiresome very quickly. Anyway, Blackbeard is using the children to mine fairy dust, which he needs to keep himself young (get it?). He also discovers that Peter might just the "ONE WHO FILL FULFILL THE PROPHECY". Yes, you guessed it, the prophecy that says that a child will come along and overthrow Blackbeard. Groan......

Down in the mines, Peter meets James Hook (played by Garrett Hedlund), who incidentally is still in possession of both hands, and we are immediately slammed over the head with the fact that Hook is a rakish adventurer!! Again, after the first three minutes, his quirks and mannerisms really grated upon my nerves.

Anyway, I will not draw out the summary of the film too much. In due course, Peter and Hook escape the mines and Peter is determined to find the "Tribal Territories" that are indicated on a map he steals from one of Blackbeard's ships. Here is where I thought the filmmakers did a smart thing. Instead of making the natives into the "Pickaninny Tribe" described in the original novel, they are a color band of all ages, shapes, sizes and races. Rooney Mara is serviceable as a fierce Tiger Lilly I suppose, but overall, I thought the "Natives" were cool.

Eventually, Blackbeard and his men discover Peter and the Natives and we push towards the climactic battle, where Blackbeard wants to destroy the Fairy Kingdom, which contains a virtually limitless supply of fairy dust. Over time, we learn more of the backstory of how all of these characters lives are intertwined. Is Peter "The One"? Will he fulfill the prophecy? By this point in the film, I almost didn't care. I was just enjoying some of the very cool visuals and action sequences.....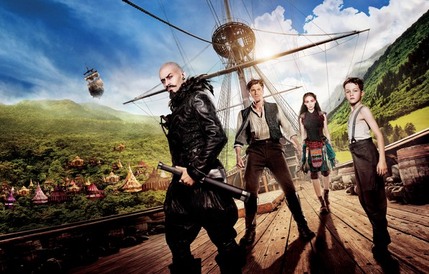 Anyway......what did I think it was a lost opportunity. It started with a cool idea, but ultimately failed with too many cliches and worn-out tropes. Sorry, but this film is simply not...that...good.

The first thing that I really didn't like was the modern day music being used in a fairy tale story, that is set in the 1940s. Come on.....the children are singing a Nirvana song when Peter arrives in Neverland? That is one thing that is guaranteed to pull me right out of a movie, and this is coming from someone who is completely ready to suspend disbelief in order to enjoy a film.

Second was the use of the "chosen one" theme. The entire movie could have been made without relying on the tired old "He's here to fulfill the prophecy......but will he?" nonsense.

Next is the portrayal of Hook as the "dashing adventurer". Don't get me wrong. I didn't mind that in and of itself, but after the tenth, cheesy "I'm a dashing adventurer" type line came out of his mouth, I was done. Oh, and there's also a point in movie that was so blatantly lifted from "Star Wars" and about a hundred other movies that if you don't see it coming a mile away, then you must be watching your very first film. I rolled my eyes so hard that I think I saw my brain.

On the plus side, there was some charming nods to the original material, and there were some lines that brought a smile to my face when I heard them. "Second star to the right, and straight on till morning....." and a few others like that.

I'll stop here, because it really does pain me to give a negative review, and I really wanted to like this movie. I figured I would write it up anyway in case anyone is interested in my humble opinion. I always encourage people to see films and form the own opinions, but in this case, it might be wise to wait for Netflix or Redbox and save "theater money" for a better film.
Horror Nerd's Rating: 1.5 out of 5 Broken Eyeglasses!
---