Maleficent (2014)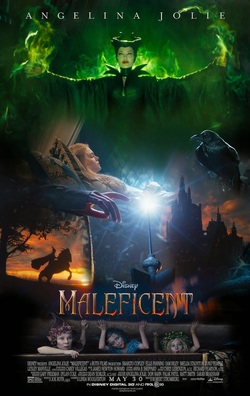 When I first heard that Disney was going to update the "Sleeping Beauty" story to focus on Maleficent, I was thrilled. She is one of my all-time favorite Disney villains and, I think, one of the all-time great movie villains in general. When I heard that Angelina Jolie was going to play Maleficent, and then when I saw the first pics, I was even more excited. So, when I finally saw the finished product, maybe my expectations were a bit too high, because I did feel a bit let down. Beware, this review may contain some spoilers. There really was no way to review it without a few of them.

We begin with a young Maleficent frolicking in The Moors, which is where the faries and other magical creatures live. We also see the human kingdom, where the humans are described as greedy and envious of the fairies. How do we know this? Through endless narration. As is happens, Maleficent meets a human boy who is not as humans have been described, but seems to be gentle and kind and, over the years, they fall in love. Of course, this cannot go in a happy direction....

When we finally see Jolie as the adult Maleficent in all her winged glory, I must say she looks amazing. Unfortunately, the human king has it in for the fairies and wants The Moors for himself so he can plunder their perceived riches. He launches an attack but is soundly defeated by Maleficent and the creatures of the forest (which are quite spectacular I must say). The king offers the crown to anyone who can kill Maleficent. Who takes up this challenge? Why, none-other than Stephan, the boy who originally fell in love with her. In a stunning act of betrayal, he steals from Maleficent the one thing that makes her special (I won't reveal it here, but by now most people know what it is), and because the king believes Maleficent is dead, he makes Stephan the new king.

Well, Maleficent is now PISSED! She transforms herself into the dark, vengeful villain we all know, and these scenes, up to when she appears during Princess Aurora's christening, are awesome. The christening scene alone was worth the price of admission and again, Jolie looks amazing and plays the part to perfection.
---
From this point, we have the familiar Sleeping Beauty story (for the most part). Aurora goes to live with three fairies so she can (hopefully) avoid the curse. However, in a divergence from the original Disney narrative, we see Maleficent watching over the girl as she grows. I will not bother to detail the entire story, so let's just say that Maleficent has a change of heart, and tries to set things right. Things do not go exactly as planned, but, in the end, in true Disney fashion, all is right with the world by the time our story ends. And, with MORE DAMN NARRATION, we are reminded that, as we have just see, the story is "not quite as we have been told."

OK, so what did The Horror Nerd think? Well, as far as what I liked about it....I LOVED Angelina Jolie in the title role, and her visual appearance was striking. Sharlto Copley is also good as King Stephan. I really love this guy, but I wish he had been given more to do than simply brood and act crazy. Either way, Copley is a great actor. The visuals and cinematography are also stunning, and whenever Maleficent uses magic, especially when she "transforms" and during the "curse" scene, it is very, very cool. Elle Fanning is adequate as Aurora, but nothing amazing. Any young, cute actress probably could have bopped through a part that really didn't have too much depth to begin with.

Overall I didn't hate the movie, but I didn't love it, which I really wanted to.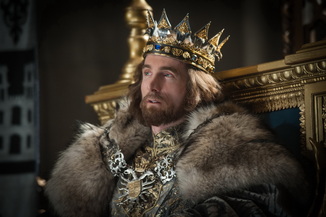 Now, what didn't I like about it? Let me make clear, I have NO problem with the fact that the writers wanted to change up the story from the animated version. I thought it would be cool to see a bit of Maleficent's back story and to find out why she's the villain that she is. If a studio is going to do a remake, I don't want to see the exact same film! Having said that, I wasn't thrilled with the actual outcome.For example. When we see the young Maleficent, no explanation is given as to why, of all the brightly colored, fantastical creatures in The Moors, she is the only one with dark wings, dark eyes, and demon-like horns sprouting from the top of her head. I suppose that maybe we viewers are left to speculate that it's because she has the potential for evil inside of her, so yes, OK, I'll go with that. No explanation is ever given as to why Maleficent rises to become the "protector of the forest" either, or where he magic comes from. OK, I am not someone who needs everything tied up in a neat little bow, so I will let that go.

THEN we get to the "transformation", as I call it. WHY is Maleficent so pissed? Well, naturally, it's because of a betrayal, and an assault, by a man. Of course it is! Filmmakers ALWAYS seem to have to use an attack by a man as the cause for a woman's vengeance. Now, if it fits the particular story, then so be it, but in "Sleeping Beauty"? In case anyone doesn't know, some folks seem to think there is an "implied rape" in this film, and Angelina Jolie as gone on record in saying that this is so. I think that is complete and utter bullshit, and, if it IS somehow true, then I think it's disgusting that the filmmakers felt the need to go in that direction. I for one don't think there's any need to make that leap. Suffice to say that Maleficent turns "bad" because of something a man did, and now she wants revenge.

OK, so at least that explains why she becomes evil. Personally, I would like to have seen it come about because she was different from the other fairies. Perhaps shunned and abused because of her horns and peculiar appearance. Or maybe because she tries to unite with the humans and is rejected, but no, it comes down to being screwed over by a dude. It all seems just reactionary to me, and there could have been so much more depth as to why she's evil. Not enough attention was given to young Maleficent or her development. She's good, then BAM! she's violated by a man and now shes the embodiment of all evil? Sorry.....not good enough for me.

---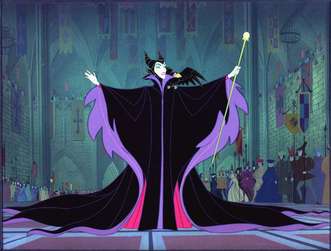 What REALLY made me nuts, was the "softening" of Maleficent. They took one of the great evil villains of all time, and turned her into a sap. Again, they wanted to change up the story, that's fine, but in my mind, they removed the very core of the character. In the animated version, Maleficent is not invited to the Aurora's christening and what does she do? She curses the child to DEATH! The very disproportionate nature of this curse it was makes her so damn evil. THEN she throws Prince Philip in a dungeon, and taunts him with the fact that he will be old and feeble by the time Aurora ever wakes up, in one of the smoothest, most calculatingly evil scenes of all-time.

Malecifient is THE MISTRESS OF ALL EVIL. She is NOT someone's fairy godmother!! Not to mention the fact that in this film, Prince Philip is reduced to a lovestruck teenager who Maleficent floats around like a balloon using a sleep spell. It's pathetic.

Oh, on a related note, I HATED the fact that they turned the three good fairies into three bumbling idiots who almost kill Aurora on several occasions due to their own stupidity. The ONLY reason for this was to give Maleficent several phony opportunities to "rescue" Aurora.

**SPOLIER ALERT**

The final kicker for me was.....the thing that REALLY made Maleficent awesome was the fact that she can turn into a fire breathing dragon. When the final confrontation occurs, I waited at the edge of my seat for her to transform into the dragon and just wreak havoc and....what happens? She casts a spell and turns her SIDEKICK into the dragon. WHAT??? I waited the whole movie for THAT?? Again, they took another thing that made Maleficent awesome and threw it away. Not to mention the fact that this awesome power was handed over to a man. Is there anything meaningful behind that? I don't know, but I noticed it.

So, overall, we have a somewhat enjoyable film that, for The Horror Nerd, was ultimately a letdown. Again, I have ZERO problem with the fact that the filmmakers wanted to tell a different story. It's the WAY they told the story that let me down. It is worth going to the theater to see it? Sure, but only for the scope and the visuals. Other than that, wait for a rental or Netflix or something.

Sorry, but this one simply didn't get me as jazzed as I hoped it would.

Horror Nerd's Rating: 3 out of 5 Broken Eyeglasses!