"Infliction" - Dir. by Jack Thomas Smith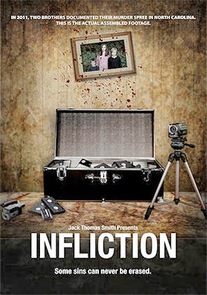 I admit that I am a fan of "found footage" or "assembled footage" type films. The problem is, there are too many of them, and for the most part, they all fall into the same trap which is, "Why would you be holding a camera when there's such chaos all around you?"

Well, finally, there is a found footage film that manages to avoid this trap and deliver a smart, gritty horror film. Actually, I consider it a dark drama, with horrific elements, as writer/director Jack Thomas Smith certainly does not shy away from the violence.

John (Jason Mac) and Kenny (Elliott Armstrong) Stiles are two brothers who are on a murder spree, which, they have decided to document on video. Why they decided to make the choice to record their mayhem is an integral part of the film which I will not divulge other than to say that it is one of the smartest conceits I have seen in a film in a long time.

Along the way, the story of how they got to this point slowly unwinds, with scenes of graphic violence peppered throughout the film. However, this is NOT a "torture porn" film by any remote stretch. The violence makes perfect sense in the context of the film and I like the fact that Smith does not shy away from it. The film is gritty, intense and very realistic during these sequences.

---
One of the things I liked best about the film is that it takes time to explore the human emotions behind the violence. The two brothers become much more than hyper-violent monsters, and, as odd as it my seem, I found myself rooting for them more than once. At the very least, the viewer begins to come to some level of understanding and even empathy for the brothers as they attempt to come to terms with their past.

Another great facet of the film are the many psychological levels to it. Are we born evil, or does our environment make us that way, or is it some combination of the two? It's the time honored nature vs. nurture debate taken to a high level. "Infliction" is a film that is well written to the point that it could probably be used during a Psychology class and no, I am not kidding about that.

If you are looking for a horror movie that is just a pile of cheap scares and gore, then I'm sorry, "Infliction" is not for you. This film is more a study of how people can be driven to unspeakable acts of violence, and it's a very effective study at that. It also explores notions of justice and revenge-as-justice, and tries to answer the question, "Is there a difference?"
Following John and Kenny Stiles forces us to really think about how we can come to terms with our past, or if it's even possible to do so. The two actors playing the brothers have amazing chemistry and the dynamic between the two is extremely believable. In fact, all of the characters in the film, even ones that display monstrous behavior, are believable. (I must point out there that actor Don Henderson Baker, who plays the boys father, does so with a level of intensity that would make me pay very close attention to him if he lived next to me!)

Overall, "Infliction" is the found footage film I have been waiting for. The fact that it's an indie film is all the more amazing. This is a well written, well acted, and well shot film that is one on my favorite films of the year. It is available on DVD and VOD from various outlets. Click on the link below to go to the official film website and SEE IT TODAY!!!

WWW.INFLICTIONTAPES.COM

Horror Nerd's Rating: 4 1/2 of 5 Broken Eyeglasses!!