Grindhouse Nights at Cafe Z - The Premiere!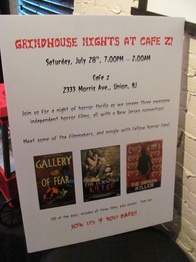 Our first "Grindhouse Nights at Cafe Z" event was held on July 28th, 2012. I had absolutely no idea what I was doing, or how to properly organize an event like this. It began as an idea to show some films that were made by friends of mine, in a setting where people could relax, check out the films, and then discuss them afterwards.

The idea was based on something that my good friend Rob Dimension was trying to do with the NJ/PA Horror Club that he started. We would get together once a month in the back of a comic book store, watch an independent horror film, and then discuss it afterwards. When that group sort of dissolved, I had the idea to do the same thing, but in a different setting, where people could also get some food and drinks. Thus the idea for "Grindhouse Nights" was born.

Cafe Z is a bar/lounge in Union, NJ, and is also a full service Italian restaurant. The screening room has a bar, and seven flat panel televisions around the room, which allows for great viewing no matter where you're sitting.

The first event had a pretty good turnout, with some cast and crew from "Gallery of Fear" on hand. I had planned to show three films, but the filmmakers from one of them, "The Turnpike Killer", had a transportation breakdown at the last minute and could not make it, so we showed "Gallery of Fear" from Alan Rowe Kelly and "The Orphan Killer" from Matt Farnsworth.

Overall, I considered the event a success. The owner of Cafe Z is a personal friend of mine who I have known for about 35 years. She was an amazing hostess, and provided hot dogs, popcorn, candy and soft drinks. The attendees got to see two great indie horror films, complete with "movie snacks" all for ten dollars. The feedback was extremely positive, and everyone asked, "When is the next one?", which is all I could have hoped for. Therefore, I immediately scheduled the next event for October of that year.
---