GRINDHOUSE DAYS AT CAFE Z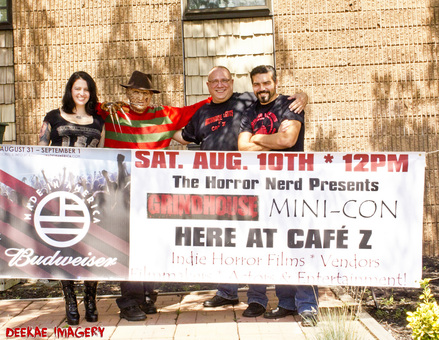 On Saturday, August 10th, 2013, I held my first "Grindhouse Days" event. The event took place at the usual venue, Cafe Z in Union, NJ. This was my first attempt at an daylong event, with film screenings, vendors, entertainment, prizes and other assorted mayhem. My goal was to create a "mini" convention, centered around independent horror filmmakers from the NY/NJ area.

All too often, the indie filmmakers at conventions are sitting in the vendor room, displaying their DVDs, posters, etc., and they never have a chance to have their films shown in a small, intimate setting, where they can truly interact with the fans. I wanted to try an offer an experience where the fans could see the films, and then have a chance to spend quality time with the filmmakers. It was all about the experience. Anyone can sit home and watch a film, but how often do you have a chance to meet the filmmakers, ask questions, take pictures and have fun with them?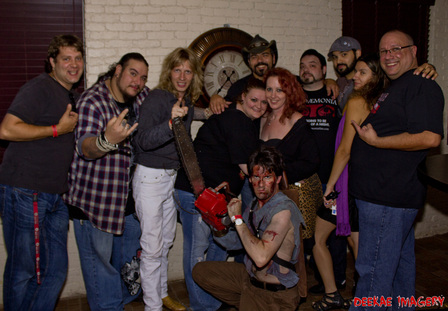 I had an amazing co-host, Thomas Ryan, indie filmmaker from NJ and director of the hit short film "Day 9", and a lovely hostess in Carolyn Baris, who regularly graces horror conventions with her presence. In attendance were great character actors, portraying Freddie Krueger from "A Nightmare on Elm Street" and Ash from the "Evil Dead" films. Professional photos were taken by Deirdre Kinnevy from DeeKae Imagery and Tarot/Psychic readings were being provided by indie horror actress Genoveva Rossi. We had great food, drink specials, incredible independent horror films and a great time was had by all, if I do say so myself.

Truth be told, I was honored and humbled by the number of people that turned out to support this event. I still cannot believe that the simple idea of getting a few friends together to watch horror films in my living room has grown into something like this. It is my great privilege to be involved with these people, and I hope to continue these events for a long time to come. Be sure to return frequently to this website to remain informed of upcoming events.

Thank you, my fellow freaks, for continuing to join my on this journey!

The Horror Nerd
---
Featured Films. Click on each image for additional information.
---
Other Featured Artists. Click photos for additional information.
---
Click the image below for all of the photos from the event!