Film Lineup

---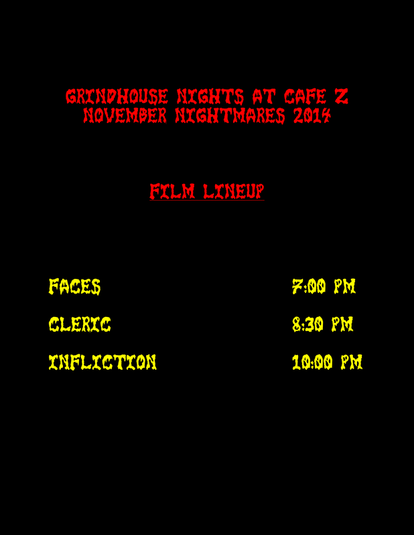 ---
FACES

Frank Walker is a man on the edge, living alone. He has no job, no friends, no woman in his life. Then he meets Charlie, and everything changes. Follow Frank's journey into....what? Paranoia? Madness? You'll have to watch to find out.

New Jersey's own Thomas Ryan presents his second effort, "Faces", a tight horror-thriller that will bring you to the edge of your seat, and then push you over.
---
Cleric
In the distant future "Heretics" - genetically enhanced mutant warriors are used for off-world combat in Earth's quest for planetary domination. Heretics are forbidden from setting foot on Earth. Those who violate this restriction are hunted down and terminated with extreme prejudice by "Clerics". Clerics are psi-enhanced women warriors with the ability to see into potential future outcomes of events and manipulate reality so that the outcome that best fits their objective can be reached. The most powerful of all Clerics is Samara but years of fighting and killing have taken their toll on her both physically and emotionally. She has retreated into a world of drugs and alcohol to make what remains of her life bearable. When Samara's former lover Gia is killed by Jah, a renegade Heretic, Samara seeks revenge. But Samara soon learns that Jah is like no Heretic she has ever faced before. He is possessed of the same reality shifting powers as she. Now, deep below the city in a place known as the Wasteland, the final battle begins!

"Cleric" stars the beautiful and talented Seregon O'Dassey, an accomplished model and actress who has starred in many successful independent films.
---
Infliction

Feature film director Jack Thomas Smith's current project he calls "Infliction" is the actual assembled footage taken from the cameras belonging to two brothers, who documented a murder spree in North Carolina in 2011. The footage reveals in disturbing detail their actions and motives. It documents the effects of people's actions or inactions and its long-term consequences on other's lives. "Infliction" presents in cold detail a hard look at the blurred line between society's criminals and victims.