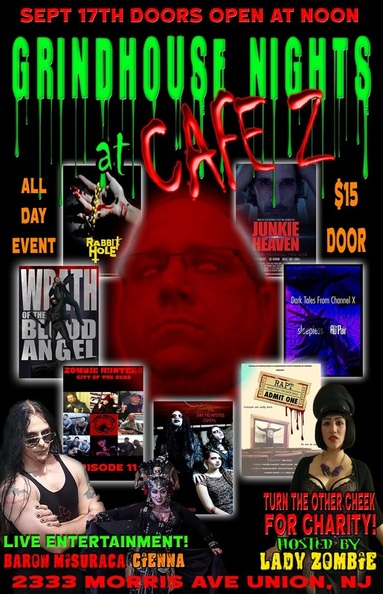 The next Grindhouse Nights at Cafe Z event will be terrorizing Union, NJ on Saturday, September 17th! Join us for a full day of horror thrills and chills as we get together with fans, friends, filmmakers, actors and entertainers to enjoy the best that the local indie horror scene has to offer!

​Grindhouse Nights is a chance for indie horror fans to watch some amazing indie horror films and to interact with the cast and crew. Each film will be followed by a Q&A with some of the cast and crew members that will be in attendance. In addition, there will be several vendors offering the best in horror merchandise, and other interesting products and services.
The sultry Lady Zombie will be performing once again, to tantalize us with her blend of vocal artistry, burlesque and performance art.....and to rock the house, Baron Misuraca will be bringing his mix of rock, goth, punk and yes, even disco tunes to close out the night. Both of these performers are not to be missed!
---
We also have a very special event scheduled to benefit Scares That Care. We're calling it "Turn the Other Cheek for Charity, and here's the one and only Lady Zombie to tell you all about it!
---
On top of ALL that, the lovely and talented
Cienna Rizza
of
Tribal Dance Long Island
will also be performing at our event. If you are not mesmerized by her dancing, well, I honestly do not know what to say! Cienna will be performing twice during the day, so make sure you're there!
---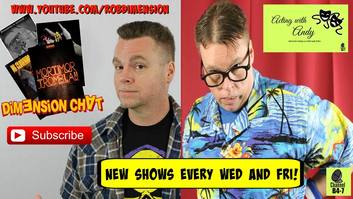 But wait! There's more!! (How could that be, you ask? Well, we aim to please so we're packing this event with awesomeness!

Rob Dimension, actor, writer, producer, director, Godzilla fan and all around good guy will be joining us as a special guest. Rob is a tremendous supporter of The Horror Nerd and of the indie scene in general, and we're happy to have him at our event. Rob will be offering merchandise for sale, meeting and greeting fans, posing for pics, and he has also graciously agreed to introduce one of our featured films, "RAPT" and also to host the Q&A afterwards.

Rob is a great guy, so be sure to say hello! Also, be sure to subscribe to Rob's Youtube channel. He is constantly posting new, awesome content. Click the image!
---
---
As always, the beautiful Grindhouse Girls will be on hand to greet fans and pose for pics. The Grindhouse Girls.....giving horror a pretty face!
---
---
For only $15 (in advance or at the door) you get a full day of entertainment, all taking place at Cafe Z, an Italian restaurant/lounge with great food and drinks. We always have food and drink specials throughout the day.
So....be sure to join us for the ONLY indie horror film festival in the Northern NJ area! Venue capacity is limited, so don't miss out! Order your ticket(s) in advance!

To go to the official Facebook event page, click HERE
---
To order your ticket(s), click the image below.
Save your Paypal receipt, as this will be your ticket to exchange for a wristband on the day of the event. Tickets will be available at the door, but venue capacity is limited, so be sure to get your ticket(s) in advance!
---