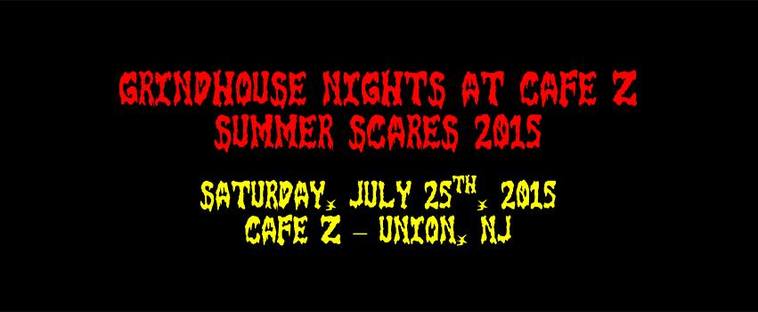 The next Grindhouse Nights at Cafe Z event is coming soon! Join us for a full day of horror thrills and chills as we get together with fans, friends, filmmakers, actors and entertainers to enjoy the best that local indie horror has to offer.
Grindhouse Nights is a chance for indie horror fans to watch some amazing indie horror films and to interact with the cast and crew. Each film will be followed by a Q&A with some of the cast and crew members that will be in attendance.
In addition, there will be several vendors in attendance offering the best in horror merchandise, and other interesting products and services.
For your listening pleasure, there will be singers on hand to share their musical talents with us and all the while you will be surrounded my some amazing costumed characters who will entertain you and pose for pictures.
For only $15 you get a full day of entertainment, all taking place at Cafe Z, an Italian restaurant/lounge with great food and drinks. We always have food and drink specials throughout the day.
So....be sure to join us for the ONLY indie horror film festival in the Northern NJ area! Venue capacity is limited, so don't miss out! Order your ticket(s) in advance!

To go to the official Facebook event page, click HERE
---
To order your ticket(s), click the Paypal button below.
Save your Paypal receipt, as this will be your ticket to change for a wristband on the day of the event. Tickets will be available at the door, but venue capacity is limited, so be sure to get your ticket in advance!
---