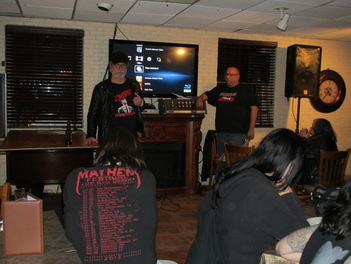 ---
The Grindhouse Nights Film Festival is a film fest unlike any other. It is a full day of horror themed entertainment, combining the best that independent film has to offer, with extraordinary live entertainment. Nowhere else will you find an entire day of of horror thrills and chills for one low price!

Typically, Grindhouse Nights takes place twice a year, alternating between different venues; Cafe Z in Union, NJ (where we got our start), and Roxy & Dukes Roadhouse in Dunellen, NJ. Both venues are fantastic, and have a lot to offer.

Grindhouse Nights is a curated festival, and we do not give out awards. Many people have asked us why. Our feeling is that there are enough awards based festivals out there, and we wanted to have an atmosphere that was not based on competition, but rather on filmmakers and fans coming together to share in what they love. One of the popular highlights of our show is the Q&A session that takes place after each film screens. This gives the filmmakers, cast and crew an opportunity to interact directly with the audience, and answer questions about their film. Not to mention the fact that the entire day consists of the cast and crew mingling with fans.....which leads to great opportunities for networking!

If you've ever wanted to become involved in indie filmmaking, Grindhouse Nights is the place to do it!
The typical Grindhouse Nights Film Festival begins when the doors open at 12:00PM for early birds to get to the show, and network with the festival hosts and the filmmakers, cast and crew members who are already at the venue. Usually, there are several vendors on hand, offering a wide array of merchandise for purchase.

Films begin screening at 1:00PM and run all day, with a Q&A session following each film. Also throughout the day, we feature live entertainment, which could be a burlesque performer, an opera singer, a magician, a fetish performer or just about anything!! We typically close out the show at around 10:30PM with a featured performer, and then the rest of the evening is spent mixing, mingling and having fun!

Since our first event in 2012, we've had almost 20 shows, screened nearly 100 independent films, featured dozens of live performers, and entertained legions of horror fans, making Grindhouse Nights one of the fastest growing local festivals in the NY/NJ area.

Come and join us....if you dare!!!
---
Check out the links below for photos and highlights from our previous events! The Horror Nerd expects to see you at an upcoming show!

---
---
---