Grindhouse Nights - February Frightmares 2014
Special Guests
---
Baron Misuraca
From the darkened streets of New York City comes forth Baron Misuraca - singer, composer, musician, actor, horror icon, alternative model, writer/main character of the In Flesh and Spirit comic book series, originator of Goth metal pioneers- Vasaria and former member of the original Sheer Terror line up!
Known for his dynamic baritone voice, charismatic presence and floor length hair, Baron Misuraca has certainly left his indelible mark within the realm of the Goth subculture and way beyond. He has performed to audiences the world over, has been featured within the pages of countless publications and websites, has been seen on Discovery Channel's "Oddities" show, TLC, MTV, and in various independent films- most recently the Zombie thriller "Survive".
Further expanding his versatility, Baron Misuraca is feverishly busy with his latest musical endeavours- a special classic goth tribute show not to be missed and (as seen all over NYC and at the Kremlin in Moscow) a retro lounge show featuring the works of Frank Sinatra and friends with a vampiric twist of course!
May the last voice you hear be Baron Misuraca's...
www.reverbnation.com/baronmisuraca
www.overtonecomics.com
www.baronretrolounge.com
---
---
Lady Zombie
Lady Zombie is a notorious Mistress of All Trades born, raised and based in the concrete jungle of New York City. She is a publishedfetish/alternative/fashion/art model, a published writer of several notable blogs and articles, the lead singer/lyricist of the band Deviant Trust, an independent recording artist, film actress, practicing Dominatrix/Goddess, a burlesque/variety show emcee, and the Hostess of several rock, Gothic and S&M events in the New York City tri-state area.

She knows no boundaries and has explored virtually all avenues of the local and global underground community as a Visual & Performance Artiste, Activist, Philanthropist, Traveler, Supporter of Indulgence, Lover of the Unusual, Seeker of Knowledge and Connoisseur of Life.

And what does this cruel, compassionate vixen... this voluptuous, decadent, woman of the night... New York City's own... the one and only, Lady Zombie... have to say for herself?

"A dark, consuming passion burns eternally within the depths of my eyes. Can you see it there? Prepare to have your very life-force rocked to its core." - Lady Zombie
---
---
Nicole Oliva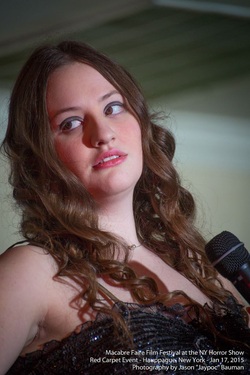 Nicole Oliva is an actress and singer from Long Island NY. Nicole has hundreds of solo and theatrical performances to her accreditation in the realms of plays, musicals, operas, concerts and films. Her powerful operatic voice mimics that of Tarja Turunen but also harnesses a sweet quality like that of a Disney Princess. Nicole's performance career started as a figure skater, upon discovering her talent for singing and theatre arts she worked on shows such as Sussical, Les Miserables, Thoroughly Modern Millie, West Side Story, Willy Wonka and
the Wizard of Oz. Since graduating with a BFA in Theatre Arts from Five Towns College she has worked with several local Opera and Theatrical companies such as The Amadeus Opera, Twitch Twitch Productions, BBR Rose Theatre, and The Gilbert and Sullivan (Yiddish) Light Opera Company.
Currently playing the role of a pretty magical Lolita girl, Nicole has been touring the east coast doing concerts and lectures such as "The Dark Side of Opera", "Anime Selections Jpop Vocal Show", "Disney Cabaret", "19th Century Romantic Opera", "18th Century Classical Opera", and "The History of American Musicals". Nicole is also currently working as an alternative fashion model, and cosply seamstress. Nicole's performance and model/cosplay work has been covered by Shojo Beat, TLC, CBS 2, FOX 5, News 12 Long Island, Newsday, In Goth We Trust, POD of the Dead, Patch NY, and Daily Eyes among others. Nicole is currently in the process of publishing a series of music videos as well as creating her first original album.
You can follow her work here:
Facebook.com/NicoleOlivaSoprano
Facebook.com/NicoleOlivaModel
Youtube.com/NicoleOlivaSoprano
Cosplay.com/member/120645/costumes
Instagram.com/princess_timetravel
---
---
Serendipity Bloom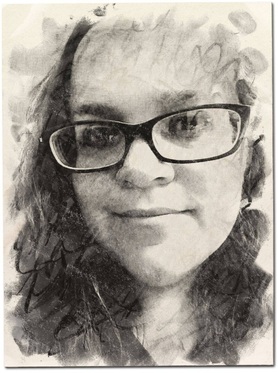 Serendipity Bloom has always been intrigued by anything related to horror and zombies. As a little girl, she documented her dreams which eventually became the inspiration for her writing. She enjoys painting, watching horror movies and writing.

Serendipity will be joining us to answer questions about her new novel "Flesh Cravers: Forever (Volume 1), and to sell and sign copies of the book!

Flesh Cravers: Forever (Volume 1):

Sophia, a natural born Flesh Craver, is a different kind of zombie. She looks like an everyday normal human being, except for one thing. She must consume human flesh in order to keep her looks and youth. Sophia works as a Recruiter for F.L.E.S.H. (Financial and Legal Experts of Shrieking Haven), a majickal underground corporation working towards harmonizing all realms to co-exist in peace. We join Sophia on her journeys through some case files and recruit leads. We meet some charming, unique and grotesque characters along the way - Faeries, Ogres, Angels and Scenters are just a few of the many we encounter. We feel Sophia's challenges as she embraces her life as a Flesh Craver, as well as her secret hopes to find love and one day be a part of the earthly realm to live a normal life.

---
---
Crystal Rose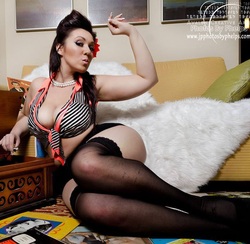 Jersey girl, born and raised, Crystal Rose is not your ordinary model, she's a modern curvy pinup with a Jersey twist. Having started in the industry as a professional makeup artist, she decided to take the plunge and dive into modeling a little over a year ago. Vintage has always held a huge appeal to her- Crystal is a habitual thrift shopper, from vintage clothes to furniture, to jewelry and beyond. Mix her love of vintage with her dangerous curves and love for anything leopard meant pin up was the only way to go. From the minute she stepped foot in front of the camera, things have taken off. Already, in a short time frame, she has been featured in over 20 magazines, mobile apps, and websites, has worked with multiple other talented individuals and formed her own little niche in this industry!
Crystal will be selling selling signed photos and posing for pictures, AND is also our newest Grindhouse Girl! It's sure to be fun when she's around!
You can find her on Facebook at
www.facebook.com/CrystalRosetheModel
---