"Cleric", 2014 - Dir. by Sean-Michael Argo, starring Seregon O'Dassey
---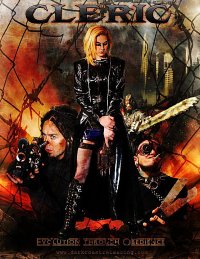 In the future, Earth, in it's quest for planetary domination, has created a race of genetically enhanced humans, called Heretics. These Heretics are sent to distant worlds to fight, and are forbidden to return to Earth. Any who do, are hunted and terminated by the Clerics. Clerics are female warriors who have been psionically enhanced with the ability to see multiple futures, allowing them to choose the path that will best suit their objectives. Over the years,
hundreds of Heretics have been killed, and not one Cleric, but it will not stay that way forever...


Samara (played by Seregon O'Dassey), is the most powerful of the Clerics, but the endless fighting and killing, coupled with a tragedy from her past, have caused her to turn to drugs and alcohol in an effort to shut it all out.

Samara is called back into action by here superior, Sholokov (Aaron Krygier) and ordered to hunt and terminate Jah (Sean-Michael Argo), a renegade Heretic who unbeknownst to Samara, played a key role in her life. She descends into "The Below", an underground populated by every type of lowlife and scum imaginable, to hunt Jah, but he is unlike any Heretic she has ever faced, and his powers seem to match her own. What is the real secret behind Jah's presence on Earth, and how will his encounter with Samara unfold? Well, you'll have to watch the film to find out!
---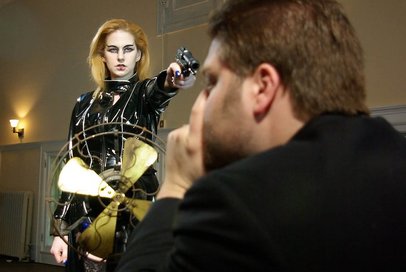 OK, on with the review...

"Cleric" is a best-described, as a post-apocalyptic, sci-fi adventure with elements of steampunk and cyberpunk. (Wow, that was a mouthful, wasn't it?) Seregon O'Dassey, a well-known actress in the indie film scene, does a great job as Samara. The scenes of her character broken down, in a drug/alcohol induced haze, are well acted and emotional. The action scenes with her and the rest of the cast are great too. The fact that all of the actors did their own stunts is pretty cool and I enjoyed the various fight scenes, which sometimes include some odd weaponry. The rest of the cast performs their roles well, especially the Sholokov character, who genuinely comes across as nasty and untrustworthy. Sean-Michael Argo brings a physical menace to the Heretic Jah, again lending believability to
the fighting. The film is definitely Seregon O'Dassey's show though! The Horror Nerd is definitely a fan!!

The story itself is a decent, post-apocalyptic tale but, being completely frank, can be a little difficult to follow at times. This is not necessary a bad thing, as I don't mind having to think my way through a film, as opposed to being treated like an idiot by the writers. However, there were a few moments where I felt that I had to work a little too hard to "figure it all out". Having said that, I thought the concept of the film was pretty cool. It reminded me a bit of some other post-apocalyptic films like "The Road" or "Mad Max", but without the scope of those movies. Which is understandable, given the budgetary limitations of the
indie film scene.

The soundtrack can best be described as some kind of electronic/metal/industrial fusion, which fit the story well. Another relatively minor issue I had was that the soundtrack occasionally overwhelmed the scene, which would make it difficult to follow the plot. This is a VERY minor complaint though, and it did not detract from my overall enjoyment of the film.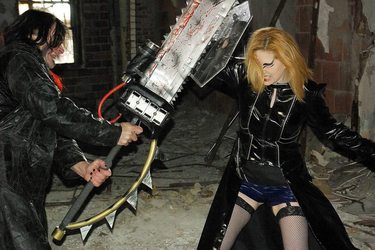 he effects and the sets were extremely well done for a low budget film, almost surprisingly so. I honestly felt like "The Below" was a seedy, nasty place where I would never, ever want to find myself. The weapons in the film were sometimes strange, but in a very cool way, almost like they had been fashioned to fit the personality of the person using them, and the costumes had a great steampunk/cyberpunk flair.

Overall, I did enjoy the film, especially since it was definitely something different. The Horror Nerd is a big fan of cyberpunk and post-apocalyptic films, and this one definitely fit that bill. The issues I had with it were minor, and any others are just part of working within the limitations of indie film making. I would recommend "Cleric" without hesitation.

Horror Nerd's Rating: 3 out of 5 Broken Eyeglasses!
---