"A Dark Rome", 2014 - Dir. by Andres Rafael Zabala
---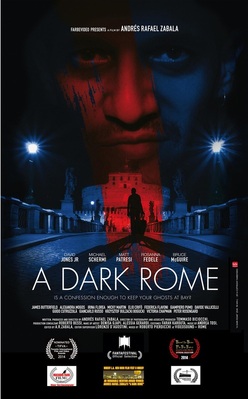 The Horror Nerd loves a good dark drama or black comedy as much as any horror film that might come along. Thankfully, "A Dark Rome", directed by Italian film maker Andres Rafael Zabala, is one of the best he's ever seen in the indie filmmaking world.

Actually, "A Dark Rome" is not too easy to classify. It's a mix of thriller, dark drama and black comedy, with some of the best elements of both.

The story is set in a special salon located in the center of Rome. Why is it special? Well, because it caters only to priests! Patrick, is a young tattoo artist who comes to work at said salon with his friend Frank. Patrick ends up betraying Frank by telling the owner of the salon that Frank is having an affair with his beautiful wife. Gabriele, the salon owner, kills Frank it a fit of rage. Much to Patrick's surprise, Frank's ghost begins appearing, and urges him to go to the police and confess. Gabriele, of course, wants none of this and instead wants Patrick to confess to a priest so that the crime will remain secret.

How will Patrick deal with this dilemma? How will he manage with the ghost of Frank constantly whispering in his ear? Well, you'll just have to find out!
---
OK, the review...

"A Dark Rome" is one of those rare indie films where you don't really know what to expect, and then end up completely and pleasantly surprised.

The first thing I need to mention is the cinematography and camera work. I am constantly impressed with the amount of work that European filmmakers tend to put into this aspect of their craft. Every shot, especially the nighttime ones, seems to precisely achieve the desired effect.

One of the main things I loved about this film is the fact that the city of Rome itself is very much a character in the film. Anyone who has ever been there will know immediately what I am talking about. Seeing the characters hang out on a balcony overlooking the city, or walking down the streets, makes you feel like you are actually there.

I found the story to be refreshing and unique. I never thought that I would come across a film that is set in a salon where Roman Catholic priests are getting massages and tattoos, within steps of The Vatican! It might seem odd, but it works! I can clearly imagine such a place existing. After all, priests are just people, right? Why shouldn't they get tattoos? I also thoroughly enjoyed the "ghost story" aspect of the plot as well. It is done in a humorous yet strangely believable way. I actually found myself rooting for Frank! As the story progresses, the film becomes very much a thriller, while still maintaining it's dark tone and comedic elements.
The acting in the film is superb as well. David Jones Jr. and Michael Schermi as Patrick and Frank respectively, do an excellent job as the film's leads, and Frank in "ghost" form is especially entertaining. It was great seeing him pop up at unexpected times in order to torment Patrick. Of course, only Patrick can see him, which is the where the film derives many of it's best comedy.
The supporting cast is excellent as well, especially the priests who frequent the salon. Watching them get tattoos and massages, as if it's nothing, was great. Matt Patresi as salon owner Gabiele is the picture of desperation and paranoia, and the other cast members round out the ensemble quite well.
Overall, I thought the entire movie was excellent. When acting, cinematography and script all come together as well as they do in "A Dark Rome", it makes for a great film. As I mentioned before, European filmmakers such as director Andres R. Zabala seem to have quite a hand on cinematography and camera work. This is not to say that American indie film makers don't as well, but just that the Europeans seem to take particular pride in it, and I always enjoy seeing how they explore film differently. Being a judge for film festivals and a film reviewer offers me a great opportunity to see fantastic films like "A Dark Rome" and in turn, to share my experiences with all of you, my faithful readers.
Please check out "A Dark Rome" on
Facebook
and on
IMDB
so you can stay on top of release information. If you ever have a chance to see this film, you MUST! The Horror Nerd says so!!
Horror Nerd's Rating: 4.5 out of 5 Broken Eyeglasses!
---