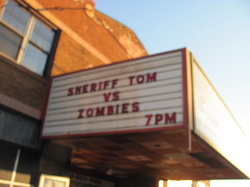 INDIE HORROR IS ALIVE AND WELL IN NEW JERSEY!

Ok folks, so instead of the usual "topic of the hour", I want to talk about a great independent film premiere I went to last night (April 20th).

"Sheriff Tom vs. the Zombies" is a feature film by NJ filmmaker Ryan Scott Weber, and starring NJ actor Joe Parascand in the lead role, as the evil Sheriff Tom. The film also stars many other NJ natives and residents, and is very much a New Jersey film project. As a NJ native myself, I am very proud of this. It always makes me happy to see homegrown filmmakers making good horror films!

Anyway, to recap the film itself, for those of you familiar with Ryan's previous feature "Mary Horror", the plot will be easy to follow. For those who are not familiar with "Mary Horror", well, that's too bad. You'll just have to check it out.

Anyway, a year after the events of "Mary Horror", the evil Sheriff Tom (Joe Parascand) is on the loose, and is bent on exacting revenge on anyone and everyone. Oh, and he's not quite human anymore.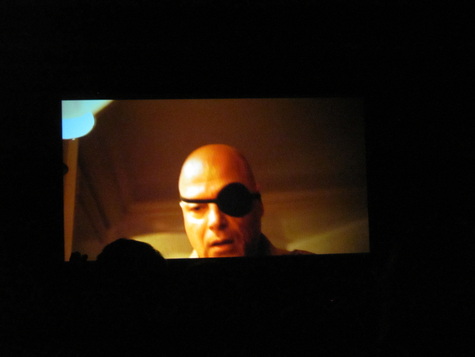 Meanwhile, a group of citizens (including a hilarious acting turn by Ryan Scott Weber), decides to have some fun by invoking Mary Horror's spirit using copies of her spells, retrieved from the local library. Well, needless to say, this is not entirely a good idea! Not only is Mary's spirit released, but the citizens of Bernardsville, NJ are turned into bloodthirsty zombies. Well, of course now Sheriff Tom has to battle zombies AND hunt down our intrepid group AND murder and mutilate a bunch of people holding a seance, trying to summon Mary Horror.

Along the way we have a lot of zombie on human munching, head shots, stabbing, neck breakings, and any other type of mayhem you can think of.

I won't give away any more of the film, but let's just say that the films builds towards a climax that leads the door open for another chapter in the Mary Horror saga, which I am very much looking forward to!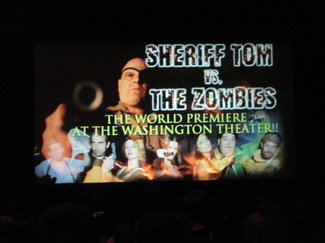 As far as the film itself is concerned, I like it a lot! I will post a full review elsewhere on this site, as I would much rather talk about the premiere. But, in short, the film had basically everything I want in an indie horror film. Guts, comedy, hot women, gore.....what more could you want? Sure, it has its flaws, but what Ryan Scott Weber pulled off on a budget of only $5,000 is fantastic. The zombie and gore effects are really good, and there's more of a story underneath it all than you might expect. Anyway, check out the review in the "Nerd Reviews" section of this website.
---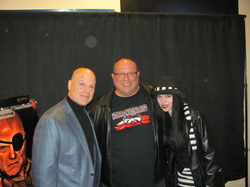 The premiere event itself was held at The Washington Theatre in Washington, NJ. It was a great venue for an event like this, as it was small and intimate. Many of the cast and crew were in attendance, which is something that makes these type of events great. It gives fans like myself a chance to "get a little closer" to the film, and to interact with the filmmakers and actors.
Our Mistress of Ceremonies for the night was horror hostess Roxsy Tyler, who did an excellent job as always. For those of you unfamiliar with her, you should make it a point to check out "Roxsy Tyler's Carnival of Horrors", you won't be disappointed.
Click HERE to go there now!
Roxsy kicked off the evening by introducing the film and writer director Ryan Scott Weber. Ryan said a few words about the film, the theater got dark, and away we go!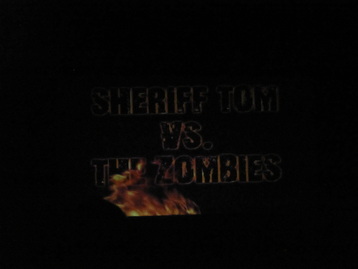 ---
After the film, Ryan hosted an awesome Q&A with the cast and crew that were in attendance. There must have been 30 people on stage. Most of them are NJ natives or residents, and The Horror Nerd is proud to know most of them personally. Ryan made it a point to introduce each and everyone one of them, which I thought was a very nice, selfless touch. Too many indie directors make everything all about themselves, and it was nice to see and hear Ryan acknowledge everyone who helped bring his vision to the screen.

Several cast members said a few words, and told some great stories about the production. This was followed by a Q&A session with the audience. This led to a lot of moments that were both interesting and funny. THIS is why I am involved in this industry! THIS is why I go to events like this. I truly feel like I am a part of something, especially because of the fact that these are local NJ people.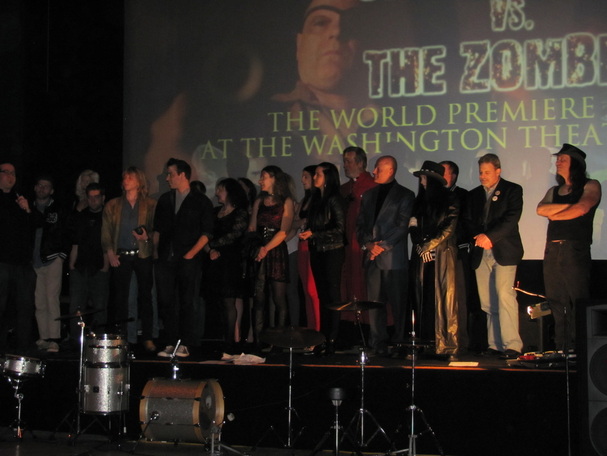 After the Q&A, cast, crew and fans gathered in the lobby to chat, take pictures, sign autographs, mingle, discuss the film, etc. It was a great night, with a great turnout and The Horror Nerd is truly happy that Ryan had such a successful event. It makes my black heart happy to know that indie horror is alive and well here in New Jersey!

I would encourage everyone to check out Ryan's company, Weber Pictures, to get more information about these films and to get your hands on them. Mary Horror is available now, and Sheriff Tom vs the Zombies will be available soon. Links will be provided below. If you were not able to make this event, the film is the feature screening at the Chiller Theatre convention on Saturday, April 27th at 8:00PM. Be sure to check it out!

Again, congratulations to Ryan Scott Weber, Joe Parascand, and all of the cast and crew involved. I had a great time at this premiere, and this is what indie horror is all about!
---