What drives a beloved TV character over the edge? What fuels a man's fall from grace? To what length will a man go to avenge a wrong? These are all questions that are explored in the fantastic horror short written and directed by Rob Dimension, and co-directed by Matt Burd.

Many of you know Rob Dimension from the local horror scene in the NJ/PA area. He is the co-host of Monstermania Radio along with Dave Hagan (promoter and founder of the MonsterMania horror convention), and he hosts the extremely funny "Extreme Odd Couple Podcast" with wrestling icon Steve Corino. Rob is also active in the indie horror scene, constantly helping to promote indie horror. He also happens to be a personal friend of mine, and one of the most genuine people I know.

Some time last year Rob mentioned to me a film script he was writing about a man who was once a famous TV host and a beloved clown character, who goes through a series of events that causes him to slowly unravel. He made it very clear to me that this would be something very different, and not a typical "killer clown" film. Over the ensuing months, Rob poured a lot of energy, heart and soul into the project, and every ounce of this shows in the finished product.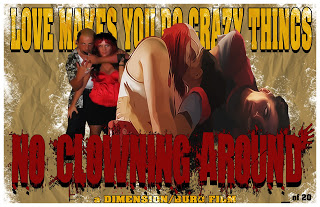 Almost all of us who grew up on the NY/NJ/PA area are familiar with TV hosts. People like Zacherly, who introduced us to horror as kids, and added a lot of flair to our TV viewing. There were also the very popular ones like Bozo the Clown, or Bob McAllister (Wonderama). We all loved them, but what kind of lives do they lead when the cameras aren't rolling? Are they truly happy? What would happen if one of these people were driven over the edge? Well, in "No Clowning Around" we find out, as we follow the tragic, downward spiral of one Mumbles the Clown.

Our story begins with Mumbles waking up in a stranger's bathtub, dirty, disheveled and reeking of whiskey. After an admittedly funny encounter with a child living in the home, Mumbles makes a hasty exit and finds his car. In our first glimpse into Mumbles' mind, we find him having a prolonged conversation with his puppet, Mr. Peepers (voiced by Sal Valente). Mumbles is quickly reminded that he is due to perform at a child's birthday party and managers to actually get there. Let's just say that things do not go well. Co-Director Matt Burd makes a cameo as a VERY unhappy father.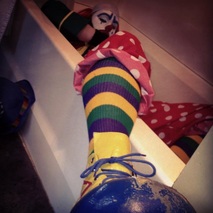 Mumbles finally makes his way home, and when he comes to, we meet his girlfriend Trixie, a heroin addict played by Rob's lovely wife, Kim Dimension. Trixie uses what little money they have on her next fix, supplied by sleazy pimp/drug dealer Lenny, played very convincingly by Steve Corino. It is very clear that despite their life situation, Mumbles and Trixie do love each other and care about one another.

I hate spoilers, so I will not give away what happens next, but lets just say that a very tragic turn of events leads to Mumbles' rapid spiral into madness, and his ultimate downfall. The climax of the film took a direction that I was NOT expecting, and I was very pleased by this.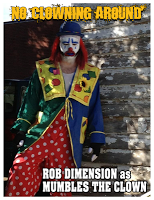 So, on to my actual review of the film.

Personal feeling for Rob and the crew aside, for a debut short film, I can honestly say that I was blown away. In an era where almost anyone can pick up a digital camera and start filming, I have seen a lot of horror shorts, and most of them are what they are. Someone picking up a camera and shooting away. This is NOT the case with "No Clowning Around"! It is very clear that Rob put a great deal of effort into the script and the story is well thought out. We actually care about Mumbles and his downfall is that much more affecting because of the relationship we develop with him. The biggest complement I could make is that when I was watching this film, I knew it was Rob Dimension but at the same time, I didn't. I believed that it was Mumbles the Clown. The rest of the cast play their parts to perfection as well. Kim Dimension as Trixie and Steve Corino as Lenny clearly cared about their roles, and made sure we felt it.

The strongest parts of the film are the plot, script and acting, hands down. As I said, for a debut film, I was not sure what to expect. I know Rob is very passionate about his project and that he would not take this one lightly, but still, like with any film, I went in with a healthy skepticism and had that washed away in the first five minutes. The filming and direction are also very solid.

There were some weaker elements to be sure. The soundtrack was excellent for the most part, but the score could use some polish. There was one extended sequence where I kept waiting for the music to change, and it never did. I am not sure if this was done deliberately to make the viewed uncomfortable, but it didn't seem that way. The effects could have used a little work at the end as well. The clown makeup was excellent, but the few other effects that there are could have been done better. I happen to know the reasons behind this but still, I would not be honest if I didn't point this out.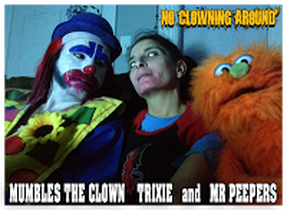 I cannot recommend this film enough. For a first effort, I really was extremely pleased with this film. Finally, FINALLY, something different comes along, with characters we care about, and a story with some emotional impact.
Horror Nerd's Rating: 4 1/2 of 5 Broken Eyeglasses!!
"No Clowning Around" is making its hometown debut at the MonsterMania convention in Cherry Hill, NJ on Saturday, March 9th at 1:00PM. Click HERE for information on the convention.
You can order your copy of "No Clowning Around", and other merchandise, at the following link by clicking on the following link:
Click HERE for "No Clowning Around" merchandise.
Finally, follow Rob Dimension's blog by clicking HERE.
(All "No Clowning Around" images are owned by the copyright holder. No copyright ownership or infringement is intended by the owner of this website.)