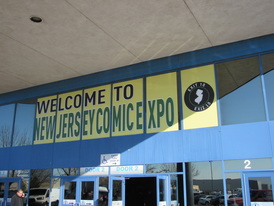 Greetings faithful readers! On Saturday, November 19th, 2016 I had the pleasure of attending the
New Jersey Comic Expo
, which was held at the NJ Convention and Expo Center in Edison, NJ. The organizers were gracious enough to grant me a press pass, and I am glad I attended this show. (I intended to do so anyway. The press pass was a nice development.)
First a quick note about the registration and check-in process. (Boring, I know, but important.) The on-line registration process was easy and so was the check-in process. The staff member who checked me in was friendly and courteous and it took all of 30 seconds to check in and obtain my badge. The security staff and event staff throughout the show were also all very friendly.
The NJ Expo Center in Edison is basically just a big, wide-open space. It's up to each show to decide the layout. The setup of NJ Comic Expo is basically the same as other conventions that take place in a similar space. Aisles of vendors, artists, dealers and others, separated with tables or "pole and drape" type setups. There were separate sections called "Artists Alley" and "Cosplay Corner" (more on that later), which I thought was a good idea, and there was also a separate area for the celebrity guests that were in attendance.
Before I continue, just a quick note on the celebrity guests. I understand why conventions like this have them. A lot of fans like getting autographs, and I am certainly one of them, but I was very glad that this convention was not centered around celebrity autographs and photo ops. I felt they had a nice number of guests and the ones who were there were appropriate to the venue. Catherine Dyer and Randy Havens from "Stranger Things" were both very nice and personable. Steve Coulter ("The Walking Dead", "The Conjuring") and Major Dodson ("The Walking Dead", "American Horror Story") were also there, as was the awesome Lew Temple, who is always a great convention guest.

OK, that's enough about the celebrity guests!!

The array of artists, authors, comic vendors, toy dealers and other vendors at the show was amazing. I walked the entire show floor multiple times, and spent a lot of time talking to many vendors that caught my eye. Everyone I spoke to was very nice, but there is something very important I want to point out.

At every convention I go to, there are always a few vendors or artists or dealers who are sitting behind their table, playing with their phone. I get that there is some downtime if there's a lull in traffic, but that is the EXACT time you should be standing up, making eye contact, and engaging with people!! Why should they stop at your table if it seems like you're bored and don't want to be there? I just don't get it. I made two purchases for no other reason than the people were friendly and engaging, and they drew me in, told me about their offering, and convinced me to make a purchase. THAT'S the way to work a convention!!
There were many great artists and writers on hand, some, such as Neal Adams (Superman, Batman, Green Arrow) and Fabian Nicienza (Deadpool) are very well known, and others might not be, but it's that kind of diversity that made the show interesting.

I know I'm all over the place, but I just want to make a note about the attendance at the show. I thought it was well attended, but not so busy that you couldn't take your time and see everything, and there wasn't a huge crush of people in the aisles, which was great. As I said, I was able to spend a good amount of time speaking with everyone. People ask me how it compares to New York Comic Con and the answer is, there really is no comparison. That does not mean I am saying NYCC is better, it's just different. That show is so huge that it can be overwhelming. A show like NJ Comic Expo is great in that you're not shoulder to shoulder with everyone. There's plenty of room to stop and chat or to take pictures, which is a welcome change from some of the "giant" shows that are out there.

There were tons of other artists there, with an dizzying array of offerings. New comic book characters, new graphic novels, creative interpretations of exiting characters. It was fantastic.

The merchandise vendors were great as well. Tons and tons of interesting finds if that's what you were looking for!

Like most comic conventions, cosplay was a big part of the show, but, before I get to that, I want to mention the amazing array of vehicles that were at the show. If you're a fan of cars that are used on TV and in movies, you would NOT have been disappointed! The Batmobile, The Mystery Machine, ECTO-1 and more, they were all there and they were awesome!

The cosplay at this show was awesome. I am always amazed at the time, effort and craftsmanship that people put into their costumes. They also always have so much fun doing it. Watching the cosplayers interact with the fans, and especially the children, is always a lot of fun. There were quite a few well known cosplayers in attendance as well, the most "cosfamous" of which was Ivy Doomkitty. She is always very nice, and it was a pleasure seeing her again and chatting for a few minutes. Vegas PG Cosplay, Lua Suicide, Kay Victoria and a few others were there, along with my friends from Superheroes Unlimited (they are a LOT of fun!)
There were a ton of other cosplayers there all day, either hanging out in Cosplay Corner taking photos, or wandering around the show interacting with fans. Again, it's always so much fun talking to them and taking pics. I must admit, I get a little selfish. Instead of just taking pics as "press", I always want to be in the photos! Thankfully, I usually have a friend or two with me who will oblige and take some photos. Yes, I'm just a big kid at heart!

Friday night closed out with a great cosplay contest. Again, there was so much creativity, workmanship and talent on display. The dedication of these cosplayers is incredible, and it's great to get to watch them show it off.
Well, that about wraps it up. Overall, I had a great time at this show. It was well run and well organized, and the staff were all friendly and courteous. It's a busy show but again, it's no so crowded that it takes twenty minutes just to cross an aisle. You can spend time with each artist of vendor without feeling like you just need to get out of the way. There are also a lot of "free" spaces where you can go to take photos with your favorite cosplayers without being in the way.

I had a great time at this show, and I can't want to go next time!

​-The Horror Nerd

---
---
---
---