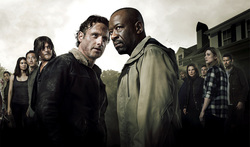 As I write this, the "mid-season premiere of season 6 of "The Walking Dead" has just aired on February 14th. What a fitting show to rev back up on Valentine's Day, what with all the red stuff flowing so freely!


So, what did I think of the episode? As I was watching it, my first thought was "Wow!" Each scene was so well done. There we so many moments of tension and then action, and then little character driven moments. The entire episode was excellent. I have only one "fear" if you will, which I will discuss as soon as I say....

THERE MIGHT BE SPOILERS AHEAD. IF, AS YOU READ THIS, YOU HAVE NO SEEN THE EPISODE, DO NOT READ ANY FURTHER. YOU HAVE BEEN WARNED!!!

There, now that I got THAT out of the way..... My biggest worry about this episode is that AMC may have given us so much action, and so many character deaths and changes, that if, heaven forbid, the next few episodes are involve more exposition and character development than action, the notoriously fickle Walking Dead fans will, as they always do, complain that the show is "boring". Die hard fans of the show, especially those who read the comics, understand that the show is NOT a "zombie show". It's a human drama that happens to take place during a zombie apocalypse, and they just don't hold back on any of the gore an violence. There are many issues of the comics where not much really happens, and the writers spends a lot of time developing the characters so that later, when shit goes down, we can understand their actions and motivations a little better. Whenever this happens on the show, the next day, social media explodes with people whining about how boring the episode is. I guess this is just typical of the short attention span audiences seem to have today.

​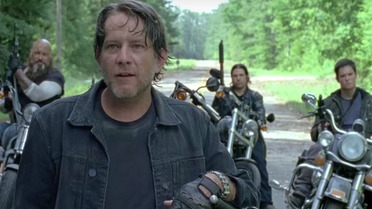 The episode itself WAS filled with many great, action-filled moments. I won't give anything away unnecessarily, but suffice to say that there was a lot of zombie munching going on, along with a heavy dose of human-on-human violence, which further reinforces the show's overreaching theme of "Fight the dead, fear the living." The walkers simply do what they do. There are no calculations on their part. The humans inhabiting this new world though are what everyone should really be worried about. This is further proved when we finally encounter some of Negan's gang. Personally, I loved the leader of this group. He was threatening in a mild way, and he was very funny. As far as I am concerned, he had the best line of the series so far when he said, "If you have to eat shit, it's best not to nibble. Bite, chew, swallow, repeat." I LOVED it!! I cannot wait for Negan to see how they are going to handle the first meeting, and I am looking forward to see how closely the show runners will stick to the source material.

Speaking of which, I thought this mid-season finale did a great job as far as using the source material correctly. There were some scenes and shots that were lifted almost directly from the comics, and there were some departures that made perfect sense. One particular scene involving Carl was, I thought, handled extremely well, and I am looking forward to seeing how that plays out going forward.
​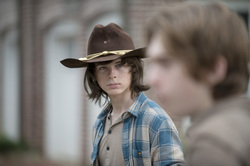 As much as I love the show, there are always things that I can critique about it. There are no perfect shows, and "The Walking Dead" is no exception. One of the biggest things that is driving me crazy is what I feel to be the writers overuse of the "Let's put a character or characters in mortal danger, where all hope seems to be lost, only to have some last second, Dues Ex Machina event happen to save them." They use it all the time, and they did it at least twice in the mid-season premiere.
For me, this "will they die or won't they" ploy is getting a little tiresome. I understand trying to build tension, and part of the show's formula is that you never know who is going to die and who isn't. I just think that this particular technique is getting overused.

Overall, I still think that "The Walking Dead" is one of the best shows on television. Yes, it's open to criticism, as ANY form of entertainment is. I just want fans to realize that having a show like this, with it's massive audience, is good for genres like this, as studios realize that they are money makers. When I see people complaining about horror becoming mainstream, I just want to scratch my head. Isn't that what we horror fans have been fighting for? For horror to become a respected genre?

In closing, I will repeat something that I have said many times. I do not grasp the incredible level of "hate watching" this show seems to inspire. Every Sunday night/Monday morning, my social media feeds are filled with posts where people complain about how much the show sucks. Why in the world would you continue to watch something you claim to hate? WAIT! I know! It's so you can seem edgy and cool, I forgot.

Anyway, that's all for now. Thanks, as always, for reading!!

-The Horror Nerd

Note: ALL images used in this post are copyrighted by AMC and this website makes NO claim of ownership or copyright.