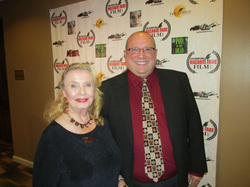 The weekend of January 16th - 18th, I had the incredible pleasure of attending yet another Macabre Faire Film Festival. I have been to just about every one of these, and I have never, ever been disappointed.

This time around, the Festival has grown so large, that it was part of a larger event called NY Horror Show, which was a great horror themed convention, with amazing vendors, artists, celebrity guests and costumed characters roaming the hotel. In all, it was a tremendous event.

For this article, I would like to concentrate on the Macabre Faire Film Festival itself. As much as I enjoyed the NY Horror Show, it's Macabre Faire that is close to my heart, and it really is a convention like no other.
The Macabre Faire Film festival was started by Elsie and Adam Ginsberg of TwitchTwitch Productions, their production company, as a celebration of indie filmmaking. It is designed to showcase films, and filmmakers from all over the world, and to bring them together with fans and film lovers.

What I love the most about the MFFF is that it truly is all about the films and the filmmakers. There are a ton of conventions out there where you can go get autographs from your favorite celebrities and yes, there are some celebrity guests at Macabre Faire, but they are not the focus of the event. Don't get me wrong, The Horror Nerd loves getting autographs from his favorite stars, but there is a time and a place for that. Macabre Faire is a place where film buffs like myself can see some amazing films, and interact with the people that made them.

I also need to bring up a very, VERY important point. The team of volunteers and staff members that work this event is amazing. They are a close knit family, and I, The Horror Nerd, am extremely proud to be a part of it. I had the privilege of being a judge for the second time, and I actually worked the festival this time, helping to make sure that all of the film screenings went smoothly. I am honored and proud to be a part of this team.
(Photos above courtesy of Jason 'Jaypoc' Bauman as watermarked)
The weekend began with an amazing Red Carpet Gala on Friday night, with consisted of a "Best of the Best" awards ceremony, interviews, performances, food, drinks and fun. Everyone looked great and had an amazing time. It was a great night of camaraderie and I am already looking forward to the next one.

On Saturday, the convention, and film festival, began in earnest. I spent a lot of time working with my amazing team to make sure the film screenings started on time, and ran smoothly. The people I worked with worked tirelessly to ensure a great event, and I cannot thank them enough.

I did have a chance to check out the celebrity signing room and the vendor room, and to meet up with some cosplay friends of mine who attended the show. The partnership between NY Horror Show and Macabre Faire Film Festival was a resounding success!

On Sunday, we screened another impressive array of films, and the fun and continued in the vendor room and throughout the hotel. Every single person I spoke to said that they were having a great time.

Each night, many of us would meet up at the hotel bar, or restaurant to discuss the show, talk about films, network or just kick back and have a few laughs. I must say, that I did more networking with filmmakers, actors and fellow reviewers/fans than I have at ANY other convention, that THAT is what the Macabre Faire Film Festival is all about.

My friends, I cannot say enough good things about this event. I go to a lot of conventions and festivals, and they are all good in their own way, but what makes the Macabre Faire Film Festival special is that when I am there, I feel like I truly am part of something. I feel included, and not just because I was a judge and working the festival. I have felt this way since the first MFFF I attended several years ago, when I was just another attendee.

If you ever have a chance to attend a Macabre Faire event, you really must. It really is an experience like no other!
---
---
For more information on Twitch Twitch productions, click on the logo.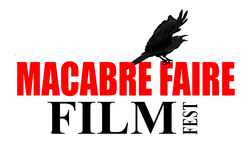 Be sure to check out the Macabre Faire Film Festival Facebook page for news and updates on upcoming events! Click on the logo!