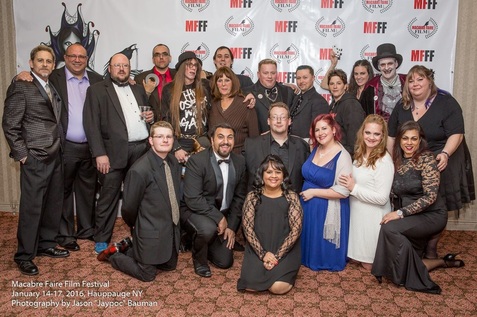 On the weekend of January 14th - 17th, I had the genuine pleasure of attending the Macabre Faire Film Festival once again. I have been to every MFFF since the festival's inception in 2012, it gets better every time and it truly is a "festival like no other."

Why do I say that? Well, it's simple. This festival is truly about the films and the filmmakers. "But Horror Nerd, aren't they all like that?" you might ask? NO! They are not! Festival creator, organizer and director LC Macabre (Elsie Ginsberg) has created a festival where filmmakers, actors, actresses, performers and film fans can all come together to share their mutual love of indie film making in an atmosphere of friendship and collaboration. It gives film fans like myself a chance to interact with a diverse group of talented film makers and it gives film fans a chance to watch over 100 indie films, and to then discuss among themselves.

All of this happens in a truly fun, inviting atmosphere, with various panels and discussion groups happening throughout the day, which gives fans even further opportunities to glimpse into the world of film.

This all culminates in an incredible red carpet gala and awards ceremony which really makes all of us feel like celebrities.....but more on that in a bit.
Thursday and Friday consist mainly of film screenings, all day long. As one of the judges of this festival (an honor that I am incredibly proud of), I watched 140 films. ALL of them screened throughout the weekend, and all of the short films screened twice, which is unheard of in the festival world. THAT is the level of dedication and commitment that LC Macabre brings to this event.

On both days, I was able to re-watch several of the films, this time with friends, and then we spent the night discussing the films. I was in film-nerd heaven. Some more friends rolled into the hotel on Friday evening, and we spent the night talking, drinking and eating into the wee hours of the morning. I can't stress enough the spirit of friendship and camaraderie that pervades this event. The Horror Nerd was truly in his element!
The highlight of Friday night, and one of the top highlights of the evening was our annual roast. This year we roasted well-known indie actor Edward X. Young. I was proud to be one of the roasters, and did we let him have it! Trust me folks, he deserved ALL of it! Ed was a very good sport and we all laughed our asses off and had a great time. I can't wait to see who we roast next year. Could it be me???
Another highlight of the weekend for me was attending a panel titled "How to be a Villain" hosted by actor Jasson Finney. During this panel, Jasson coached us on what it takes to be a good villain, and then we all had to act out a monologue where we got to actually portray a villain that we created. Jasson would then dole out advice so would could fine tune our performance. We all voted as a group and selected a winner, (Father Evil), who then performed is monologue during the red carpet Gala. The panel was fun and informative, and it was another great element of the weekend.
Saturday was another day of checking out films, chatting with filmmakers, and hanging with friends, all leading up to the red carpet gala.

I've been to a lot of film festivals, and none of them have anything like this event. From being escorted along the red carpet by a beautiful woman, to being interviewed by the press, to sitting for a dinner filled with great food and entertainment, it really was an amazing experience. There were singers, dancers, magicians, comedians, an amazing fashion show and tons of other entertainment.

Everyone was dressed in their nice clothes. (I must say, the ladies in attendance all looked dazzling, and the guys looked good too!) We all really felt like celebrities for one night.

There was a lot of great entertainment and, of course, the awards presentations. It's always a pleasure to see film makers, actors and actresses express the joy they feel at being recognized for their work.

Folks, I am telling you, if you don't come to Macabre Faire in 2017, and if you don't buy a ticket to the red carpet gala, you really are missing out on something exceptional.
Sunday was my "wind down" day, which I really needed because I was exhausted. I am getting to old to stay up until 6AM two days in a row! I checked out a few more films, hung out with friends, and basically relaxed. We then had our usual "farewell dinner" and said our goodbyes. I HATE it when the MFFF comes to a close!

I cannot overstate how much I love this festival. You might be thinking, "Horror Nerd, you're friends with the festival organizers, aren't you biased?" Well, I might be, but don't forget, I became friends with all of these great people AFTER I fell in love with the event. It was the event itself that I was impressed by, which motivated me to become friends with the people who put this amazing event together, and I am now proud to call Elsie and Adam Ginsberg "friend". In fact, the entire Macabre Faire Family are now valued friends of mine, and I look forward to seeing them at various conventions and other events throughout the year.

I am telling you folks, if you don't go to the Macabre Faire Film Festival in 2017, you are really missing out on something special. Click on the image below to go to next year's event page on Facebook!