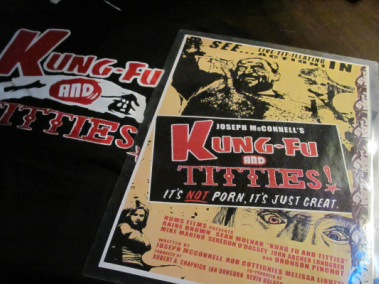 So, on Tuesday, February 12th I went to the premiere of a movie called "Kung Fu and Titties". You may ask why in the world I would go to see such a film. Well, for one thing, when you are friends with two beautiful actresses who happen to be in the film, and when one of them asks if you want to drive to the premiere together, you say YES, that's why!

Another reason is to simply support independent cinema and the filmmakers who work so hard to bring us movie that are outside of the mainstream.

In short, I had a blast at this premiere and I thoroughly enjoyed this film. It is EXACTLY what it is supposed to be, which is absurdist humor at it's finest. Director Joseph McConnell takes us on a ridiculous romp through a landscape populated with insane scenarios and equally insane characters, oh, and lots and lots of topless women! I laughed so many times through the film that I lost count. The audience was laughing, cheering, clapping, etc. constantly, which is exactly why I would go so see a movie like this.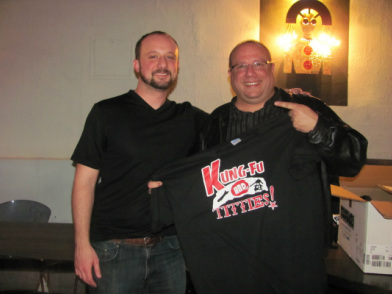 The lead actor, Sean Monlar, was hysterical as Richard Titties, a struggling MMA fighter who gets transported to an absurd dimension where he does battle with villain Zeefros, who captures and imprisons women for the sole purpose of making them dance while topless. (Nice work if you can get it). He also has a bizarre obsession with indie film darling Raine Brown, and I can't say I blame him. The lovely and talented Seregon O'Dassey stars as Richard's girlfriend, Cynthia, who is also captured by Zeefros and is forced to.....well, you'll just have to see the film when it's released digitally and on DVD!! Bronson Pinchot lends a familiar face to the cast as a mystical Indian providing advice to Richard Titties along the way.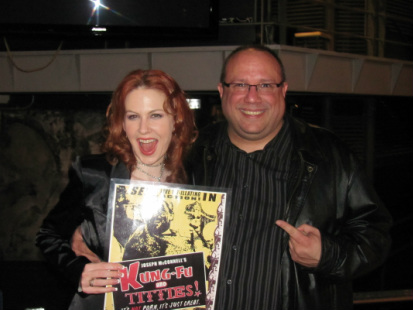 As ridiculous as the premise of this film is, the amazing thing is that the filmmakers achieved exactly what they were aiming for. There's nothing worse than a film that tries to play it straight and ends up being unintentionally hilarious. No need to worry about that here!
In closing, this is the kind of movie that I actively seek out. A movie where you can just check your brain at the door, and have a great time laughing your ass off. Please be sure to check it out when it becomes available, and tell them that Todd, The Horror Nerd, sent you!
Be sure to also check this blog in the future for an interview with the director!
"Kung Fu and Titties", by Joseph McConnell
, starring Segeron O'Dassey, Raine Brown, Sean Molnar and John Archer Lundgren.