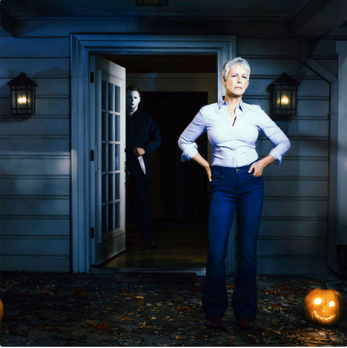 Well, horror fans sure did wake up on social media when it was announced that Jamie Lee Curtis would be back as Laurie Strode in the upcoming 2018 'reboot' of "Halloween", As we all know by now, I think, the film will be directed by David Gordon Green, with John Carpenter as executive producer and creative consultant. I'm not going to go any further into the details, as they have been published on about a million other websites. You can link to an article from Variety
here
. The one thing I would like to note is that, according to the articles, the film will be a direct sequel to the original "Halloween 2", and will ignore all of the other sequels, including "Halloween: H20" and "Halloween: Resurrection", both of which featured Jamie Lee.
What I am really thinking about are the various social media reactions I saw to this news. Many fans were completely ecstatic, acting as though it was the second coming. Others simply rolled their eyes over the fact that there was yet another "Halloween" film on the horizon.
I am not entirely sure how I feel about it yet. I have long maintained that movie fans in general, and horror fans specifically, are always lamenting the fact that "There's nothing new coming out of Hollywood", yet they jump for joy when the umpteenth sequel in a horror franchise is announced. I think far too many of us are "holding on to the past". Listen, I love all the iconic horror franchises as much as anyone. "Friday the 13th", "Nightmare on Elm Street", "Halloween"......these are all defining franchises in the horror landscape, and, for those of us of a certain age, they are films that we grew up with and, because of that, we tend to view them through the lens of nostalgia. Speaking for myself however, I think there comes a time when certain things have just "run their course". Personally, if they never made another "Halloween" film, I would be OK with it. Having said that, who knows? Maybe this new one will turn out to be really good.