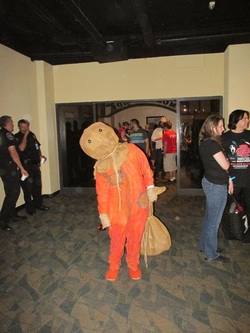 For several years, I had been hearing great things about Texas Frightmare Weekend, a horror convention that takes place during the first weekend in May each year down in Dallas, TX. Finally, this year, I decided to bite the bullet, buy a plane ticket, and see for myself what everyone was raving about. Well, I am very glad that I did.

Right from the beginning, it was a positive experience. Ordering tickets is easy, the event website is easy to navigate, with links to local hotels which made getting a room a breeze. I highly recommend getting a room in the same hotel as the event, which is the Hyatt Regency at Dallas/Ft. Forth Airport. It's a five minute shuttle ride from the terminal, and has reasonable rates, and it's always convenient to stay in the same hotel as the event.

When I arrived at the hotel, there was an event registration desk where I picked up my wristband for the weekend, my program, and some other materials. Even the wristband and program were impressive. The wristband was heavy grade plastic and the program was more like a magazine. The desk is open long before the show officially starts which again, makes it very easy to check in.
When the show opened on Friday and I first walked into one of the main ballrooms, the first thing that I noticed was that the celebrity guest tables are mixed in with the vendor booths. I found this to be a bit unusual at first, but the more I walked around, the more I realized how well it worked and what a great idea it was! I makes traffic flow smoothly, and it steers people who are there for autographs towards vendors that the might not otherwise have noticed. The typical convention setup is to have the celebrities crammed into their own rooms, and the vendors crammed into different rooms. This often means that many visitors never even make it to the vendor rooms. I asked some of the vendors about this and they all love the setup. I had several of them tell me that they make more money on a Friday at Texas Frightmare than they do in an entire weekend at some other conventions.

It also gives you a good chance to walk past a celebrity table, wave, say hello, and check out the items they are offering for signature, along with the prices (more on that in a minute). Suffice to say, I loved the way this convention was laid out. There were to giant vendor/celebrity rooms, a film screening/panel room, and some other, smaller rooms where different activities were taking place.

I felt that the mix of vendors was excellent as well. There were your usual t-shirt, poster and print vendors, but there were also people selling carnivorous plants, masks, custom artwork and creepy things in jars with formaldehyde.....you know, stuff you can buy for mom and dad! I had fun checking out all the awesome merchandise.
One thing I MUST point out is how friendly, courteous and helpful the Texas Frightmare Staff were. They greeted everyone with a smile, and if they sensed that you were looking for something, they actually asked, "What can I help you with?" They managed the autograph lines effortlessly, and were never rude or pushy. Other conventions should take a lesson from Texas Frightmare on how to train their staff. Even the hotel staff were amazing! They were all into the convention. The vast majority of the hotel staff all had costumes and/or makeups on all weekend, and they seemed to genuinely embrace the event. I have been to conventions where the hotel employees seemed disgusted that there were a bunch of freaks walking around. Well, that was definitely NOT the case here! When the hostess at the restaurant is dressed like Carrie from the prom scene, you know they are enjoying it as much as you are!

Also wandering around the hotel all weekend were, of course, the cosplayers and costumed entertainers. Given the type of convention this is, there were mostly horror themed costumes, and many of them were amazing.
OK, time to talk about the celebrity guests.

I thought the guest lineup was excellent. It was mostly people who worked mainly in the horror genre, but it was not limited to that. Their "headliners" were Neve Campbell, Skeet Ulrich, Malcolm McDowell, and Brad Dourif. Not bad! I am not often star struck any more, but when I met Malcolm McDowell it was a true fanboy moment for me and I geeked out completely. I also had some kind of a seizure when I met Sherilyn Fenn. She is still gorgeous and one of the nicest guests I have ever met. Sid Haig is always a great guest, and I was fortunate enough to have dinner with him on Friday night and talk with him for several hours about his life and career. Some other guests that I had a great time meeting were Tara Reid, Quinn Lord (Trick 'R Treat) and Jennifer Lynch (daughter of David Lynch).

Don Coscarelli, director of "Phantasm" was a great guest, spending a lot of time with each fan, and posting for endless photos. Angus Scrimm, The Tall Man from "Phantasm" was great as well. Even at his advanced age, he was friendly and engaging and genuinely enjoyed meeting the fans. I had a great time with every guest that I met.
Yes Horror Nerd, but what about the PRICES??

Good question. Overall, I thought that the prices that most guests were charging we very reasonable. Most of them were charging $20-$30 for a signed photo, with a photo at their table, with your camera included. In fact, every guest that I met would allow you to take more than one photo. A few guests were a little more. Malcolm McDowell was $45 per autograph, which I could forgive because of his status in the industry and again, he was very nice, spoke to each fan for a minute or two, and posed for pictures at his table. Overall, I thought the prices were very fair and, if there was a guest that was charging too much, I just kept walking. (As a side note, one thing that I thought was cool was the the Texas Frightmare Weekend website posted many of the autograph prices a few weeks before the show, which allowed people to prepare. I wish more cons would do this.)

The only guest whose prices I had a real issue with was Neve Campbell. She was charging $75 per signature, with NO table photos. She was then charging $80 for a professional photo op. I have written about rising autograph prices and the scourge of professional photo ops many times, and I am not going to go into it again here, so all I will say is that I did NOT pay these prices.

One thing I will point out however is that I saw something I have never seen in 16+ years of going to conventions. On Saturday afternoon, at the height of the convention, Neve had NO ONE on her line, and staffers were standing around shouting, "Meet Neve Campbell! No line, no waiting!" If you have to have carnival barkers pleading with people to meet your headline guest, you have a problem. I hope Neve and her management learned a lesson.

Another problem I had was that Neve was hidden in her own room, where no one could see her unless you got on line and went in. I think this was a huge mistake. Speaking for myself, sometimes seeing the guest and how they are interacting with the fans will spark me to actually get on line for an autograph. Hiding your headliner away was a bad idea in my opinion. I think the convention managers vastly overestimated Neve Campbell's drawing power. At $45 per autograph, Malcolm McDowell had a long, steady line all weekend and probably made a fortune.
In closing, I will summarize by saying that Texas Frightmare Weekend was one of the best, most well run conventions I have ever attended. As I mentioned, the staff was friendly and helpful, the layout was great, and I truly felt like I was at a FAN event. Yes, people are charging for autographs, but I never felt like I was on an assembly line of any kind. I had a great time meeting each guest and I met a lot of great fans and made a lot of new friends.

The Horror Nerd will definitely be attending Texas Frightmare Weekend in 2016!! You should too!!