The weekend of January 17th-19th 2014, The Horror Nerd had the pleasure of attending the fifth Macabre Faire Film Festival, in Rockville Center, NY (on Long Island).

What is Macabre Faire, you ask? Well, it's an film festival like none other I have ever attended. It's more of an experience, really. Imagine an event where there are more than 30 independent films being screen, both shorts and features, drawn mainly from horror, sci-fi, fantasy and steampunk genres. Imagine also being able to meet many of the filmmakers, cast and crew of these films, and having the chance to really get to know them, and what makes them tick. Finally, imagine all of this happening in a setting where you are made to feel like you are actually part of something big, and that you belong there, and that you are among friends, even if you may never have met most of them. Well, that, and much, much more, is Macabre Faire.

Event organizers LC Macabre and Adam Ginsberg, of TwitchTwitch Productions, have been putting this amazing event together since 2012, and their passion and effort really shines through. This time around, The Horror Nerd had the honor of being one of the judges responsible for evaluating all of the films and voting on several categories. This was one of the toughest things this Nerd has ever done.

Please allow me to walk you through the weekend. Bear with me, as it's a little much to be able to document in blog.
Friday Night - Red Carpet Gala
Friday night began with an amazing red carpet gala. Many of the filmmakers, actors, actresses and other crew members were in attendance. As you can see, there were professional (and personal) photos taken throughout the night. We were all made to feel like true celebrities and for someone like The Horror Nerd, it really was a big deal. Press and media were in attendance conducting interviews, and it truly was an amazing experience.

One of the special guests for the weekend was makeup and special effects artist Tom Sullivan, who is famous for the work he did on the "Evil Dead" films. Tom is not only incredibly talented, but also a great guy, and it was a pleasure talking with him and spending time with him over three days.
Following the meet/greet and interviews, was the actual party, where we ate, drank and danced the night away. There was also a very special moment where two long-time Macabre Faire family members renewed their wedding vows. Yes, is was decidedly NOT your traditional wedding, but that's what makes these events so special!
We were also treated to a fantastic musical performance by recording artist Melissa Otero and then, one of the highlights of the weekend, a performance by composer, sound engineer and sound effects specialist Alan Howard. This man has composed music for so many iconic films, such as "They Live" and "Escape From New York". Let me tell you, The Horror Nerd had a TOTAL FANBOY MOMENT during this performance!!!
There were also many other tremendous moments during the Friday Night gala. Actress and author Eileen Dietz ("The Exorcist") was made an honorary Macabre Faire Ambassador, and my friends from Mass Grave Pictures were presented with an honorable mention award for their short film "M is for Mastectomy", which was screened during the party.

The night wound down with more dancing, laughing, fellowship and of course PICTURES. (Come on, everyone knows I'm a picture whore!!). It truly was a very special night that The Horror Nerd will never forget.
For a larger photo gallery from Friday, click HERE.
---
Saturday - Panels and Film Screenings
Saturday afternoon began the "main" part of the festival, if you will. Throughout the day, there were several screening rooms that were showing films throughout the day. After each screening, any of the cast and/or crew that were in attendance would hold a brief Q&A with the audience. I was able to attend a few of these, and they are a lot of fun.

Also throughout the day, there were several seminars and panels held.

Bob Socci is an actor and memorabilia collector who has been meeting and greeting Hollywood royalty for over 50 years. He shared with us many great stories about meeting celebrities such as Elvis Presley, Sofia Loren and many other, and he also showed us some of the amazing photos and memorabilia he has collected over the years.
Event host Adam Ginsberg moderated a panel with filmmaker Michael Stevens ("Brutal") and special guest, composer and sound engineer Alan Howarth ("Escape From New York", "They Live") where they discussed the key ingredients for successful horror film making.
Additional sessions included "For Clearer Screenplay Writing" with Canadian Filmmaker (and Horror Nerd friend) Alfredo Salvatore Arcilesi, "Surviving in the Festival World" with event hostess LC Macabre and Kelly Michael Stewart and the always fun and interesting "How to Die Like a Pro", an interactive workshop with indie starlet Heather Drew. There were other panels throughout the day, each offering something different and interesting.

The night concluded with a musical performance by The Slippery Chickens and a comedy roast of frequent festival Wyzae (Zombie Zae). He was a great sport, even though we completely destroyed him. After that, more dancing, joking, camaraderie and.....you guessed it! PICTURES!!
For a larger photo gallery from Saturday, click HERE.
---
Sunday - Panels, Film Screenings and Awards
Sunday continued with more panels and film screenings. Most of the films were screened at least twice throughout the weekend, to give the attendees a chance to see as many of the films as possible, given the sheer number of films that we considered.

Talented Director Jeremiah Kipp ("Crestfallen", "Baggage") spoke about working with actors to bring their roles to life in this informative seminar.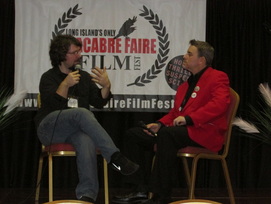 Writer, director, horror host and personality Rob Dimension gave an excellent seminar about crowd funding. He spoke about the dos and don'ts about getting your film funded using the popular crowd funding websites and services.
Additional panels occurred throughout the day, and the evening culminated in the awards ceremony.

As I mentioned before, The Horror Nerd was one of the judges responsible for considering all of the films submitted, in various categories such as Best Sound, Best Cinematography, Best Screenplay, etc. This is one of the hardest things I have ever done, as there was something to like about each film. Narrowing it down was very difficult. As tough as it was, it was a honor to be a part of it, and I am humbled that LC Macabre and Adam Ginsberg would think enough of me to ask me to be a judge.

Many of the winners were in attendance, and the joy the expressed at winning was a lot of fun to watch. The evening concluded with (of course) more photos, partying and friendship.
For additional photos from Sunday, click HERE.
---
---
Well, I know this has been a lengthy blog entry, but there is too much to actually write about. There's far too much to say about this amazing event. If you ever have a chance to go to the Macabre Faire Film Festival, please do so. It is an experience you will not soon forget.

For more information, visit the TwitchTwitch Productions website bu clicking on the image below. There you will find information on the Macabre Faire Film Festival and the other projects that they are working on.